18 Original and Wildly Fun 2-Year-Old Birthday Party Ideas
From a rainbow party to a fairy-tale fete, these birthday party themes are perfect for a 2-year-old.
by Lauren Steele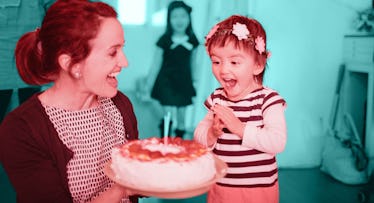 The best birthday party ideas for 2-year-olds tend to be the simplest ones. Turning 2 is a major milestone for toddlers (and their parents), but that doesn't mean your 2-year-old is going to want an extravagant birthday celebration. Toddlers just want cake to eat and shiny things to wave about, and they want to run free and laugh at nonsense. Which is why paying top dollar to rent a space for them just doesn't make sense.
Bring the party to your home, and come up with a theme that requires little more than a creative look into your gear closet or a quick trip to the supermarket. Keep your hosting duties in the one-to-two-hour window and be sure to cater to the adults who come. After all, they're the only ones who will remember it. Here are some easy and fun 2nd birthday ideas, whether you're keeping the party indoors or taking it outside.
Kids represent the largest unvaccinated group in the U.S., which means that indoor gatherings still pose a risk and should be avoided. In April, however, the Centers for Disease Control revised their guidelines for outdoor gatherings, which are now deemed lower-risk for small groups, so long as masks are worn by unvaccinated kids and adults, and social distancing is maintained.
2-Year-Old Birthday Ideas for an Indoor Party
Build a Cardboard Castle
This one is as simple as going to your local hardware and appliance store and asking for as many cardboard boxes as they have to hand over. Then, paint the boxes in different colors. When the party gets going (and after the paint is dry), help kids construct a cardboard castle to play in.
Paint Party
Get some washable markers, finger paints, and crayons; unfurl scrolls of craft paper on tabletops or tape up giant sheets of drawing paper along the lower half of a (well-protected) wall; and then let the kids go crazy. It wouldn't hurt to get a few coloring books as well, for those kids who want a little more structure in their art.
"Favorite Things" Party
Two-year-olds don't like to pay attention, and they certainly don't like being told what to do. That's why sometimes it's best to ditch the organized activities and games and just give your child the tools to have fun. And what could be more fun than having all of your favorite things on your birthday? So get decorations that are your kid's favorite color, have all of their favorite foods and snacks, dance to their favorite music, and play their favorite games (or with their favorite toys). Because yes, 2nd birthdays should just be glorified play dates.
Rainbow Party
This one is as simple as using color to entertain kids — because, let's face it, kids just love color. The more color, the better. So bring out the multicolor streamers, rainbow cake, Technicolor clothes, and have fun with it.
Fairy-Tale Fete
Incorporate as many of your little one's favorite fairy tales as possible (serve oatmeal as the "porridge" from Goldilocks and the Three Bears; let kids wear red capes for Little Red Riding Hood; offer mud pie, haystack cookies and "brownie bricks" for a nod to the Three Little Pigs). Then have kids guess what story each element of the party is from — and go ahead and tell the stories to keep kids entertained.
Buckets
If you haven't noticed, toddlers love to touch things. So, gather some buckets and fill them with random items — spaghetti noodles, play dough, sand foam, rice, packing peanuts, and whatever else you can find. Set up stations for the buckets and let kids entertain themselves with a sensory adventure.
Milk and Cookies
There is no one, at any age, who wouldn't love to just sit around and eat milk and cookies. A 2nd birthday is a perfect time when kids are just allowed to try milk (whether it be cow's, almond, coconut, or hemp) and start having sugary treats. So bake (or buy) a variety of cookies, grab some milk and have a good old-fashioned milk and cookies bar.
"Brunch" for Babies
No one wants to deal with a crew of fussy toddlers who either just woke up from their naps or who need their naps. So throw your child's birthday party in the morning, celebrate everyone's favorite meal, and have everyone home by noon. Serve eggs, bacon, muffins, juice, and include a "cereal bar." An easy cake option for this party is a birthday pancake, which you can decorate with candles just as well.
Go "Shopping"
At the beginning of the party, give each child $10 in Monopoly money. Then, let kids go around to different parent "vendors" to buy different treats and toys. Practical and fun, right?
2-Year-Old Birthday Ideas for an Outdoor Party
Bug Party
Kids love bugs. Why? It's unclear. But the rational fear that keeps them from just picking up spiders and beetles just hasn't taken effect yet at this age. So take advantage. Spread some fake bugs throughout the backyard (or around the house, for that matter) and have a contest to see who can find and collect the most "bugs." You can take the theme further with bug-inspired treats, butterfly nets, and firefly jars to hand out.
Garden Party
Need some help in the garden? Luckily, toddlers love to "help." Buy a few planters and some seeds and let kids plant fruits, veggies, and flowers together however they like. Then, let each kid have a small planter to take home and watch grow.
Flower Party
Go buy a few discounted bouquets at your local market and take them apart. Sort the flowers by type and let kids "create their own" bouquets that they can take home. Bonus points if you have flower-themed treats.
"Pool" Party
Depending on where you live, it may be a little early to be swimming, but making a water blob and filling a few kiddie tubs in the backyard lets the kiddos have their own version of a pool party. Make sure you have umbrellas and a snack shack to keep kids extra happy (a.k.a. neither hungry nor burnt to a crisp).
Mud Bath
Sometimes you just have to embrace a child's ability to get dirty. Let parents know to come armed with an old pair of clothes and a fresh outfit to change into before going home for this one, though. Get a few kiddie pools and fill them with mud, foam, and water. You won't regret this one. There is a special joy to letting kids play in the mud.
Bubble Birthday
Two-year-olds love bubbles. Two-year-olds love bubbles more than they should. But we won't argue. Arm the kiddos with bubble guns, bubble machines, bubble wands, bubble nets, and buckets full of soap and water (or the "bubble mix" you can buy at the store) and watch them go.
Ice Cream Social
Everyone likes an ice cream sundae. Get a few different flavors of ice creams, some toppings, and some fun bowls and let kids make DIY ice cream sundaes. Of course, the birthday boy or girl gets two candles to blow out in his or her sundae.
Summer Snowball Fight
One of the most special warm-weather treats I've seen is when my niece and nephew were surprised by their grandmother with a bucket full of snow she had collected during the previous winter and kept frozen until July. She let it thaw and then everyone cooled off on the hot summer afternoon by having a good old-fashioned snowball fight.
Playground Park Party
No big backyard to play in? Have your child's friends and their parents meet you at the local park playground for an ever-lasting recess. If you want to supply food and drinks, most municipal parks have shelters you can rent by the hour.
This article was originally published on