41 Years Ago, All The Best Movies Came Out At Once
One new documentary series will convince you 1982 was the greatest time to love movies.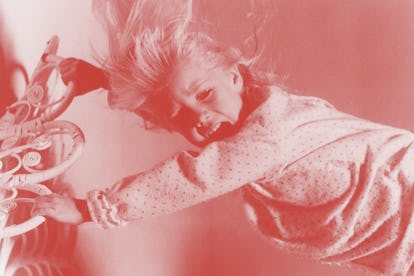 Getty
Nobody recognizes the golden age when they're living in it. Especially not movie lovers. In a candid moment in the new docuseries 1982: Greatest Geek Year Ever!, longtime film critic Leonard Maltin admits that he had no idea that 1982 was special at the time, "but now looking back, we'd be lucky to half as many good films." If you remain unconvinced, or think that this new docuseries took 1982 as an arbitrary year for great movies, actually watching it will convince you otherwise. Overall, it's not hard to say the 1980s changed the way we think about movies, what 1982 does is explain how and why. And the moment everything pivoted is clearly, the year 1982.
The new four-part docuseries —1982: Greatest Geek Year Ever! — debuts on the CW on July 8, 2023, at 8 PM (and streams the following day on the free CW app). And, if you have any interest in movies or '80s nostalgia, it's an utterly essential event. Each of the four episodes examines a different set of movies that hit in 1982, with a specific emphasis on the explosion of science fiction and fantasy movies of the time. Here, you'll get secrets from the set of Blade Runner, the inside story of the making of Tron, as well as the double-punch of 1982 Spielberg movies, when Poltergeist debuted the week before ET in June 1982. In 2023, people are making a huge deal about Barbie and Oppenheimer opening on the same day, July 21. But, in 1982, this kind of thing happened all the time.
On June 4, 1982, Star Trek II: The Wrath of Khan went head-to-head with Poltergeist. The following weekend, June 11, 1982, ET came out. THEN, on June 25, 1982, Blade Runner, and The Thing both hit the at the same time. By July 9, you had Tron, and on July 30 The Secret of Nimh changed kids movies forever. This is also just the summer of '82 we're talking about here. As Felicia Day puts it in the docuseries, this was a time for movies where "The art and the commerce met," meaning the blockbuster mentality was aligned with movies that weren't simply cynical, but rather, made money because they were good, not in spite of it. Hell, even the bad movies of 1982 had heart.
For those of a certain age, trying to find a true stinker movie in 1982 is hard, though the doc makes a good argument for Megaforce as an "anti-classic." But, what makes 1982 such a great docuseries is that it also blends truths of '80s culture into its study of the massively important films. Having film buffs talk about the cinema of the '70s and '80s, and 1982 in specific is great. But what makes this documentary smart is the way it reminds us of how different the '80s were for kids. Today, Stranger Things feels like science fiction, and as Mark A. Altman — the writer of the documentary — points out, that's because in 2023 we can barely imagine kids riding around on their bikes all day long, and maybe returning home for dinner on time. 1982 captures the feeling of being a kid excited about summer movies, but tempers that nostalgia with insight, an amazing amount of research, and wonderful interviews. If you're missing your own childhood just a little bit, and want to remind yourself that yes, 1982 was great, this docuseries is unmissable.
Watch 1982: Greatest Geek Year Ever! on the CW, starting on July 8. Episodes air the next four Saturdays and stream for free the following day on the free CW app.