Where Do I Get Josh Duhamel's Awesome Camel Jacket?
This shirt jacket is the wardrobe staple you didn't know you needed.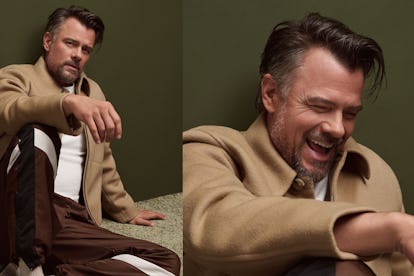 We may receive a portion of sales if you purchase a product through a link in this article.
You might think a winter coat is your only option right now, but not so. The so-called shirt jacket — a, shocker, jacket designed in the style of a shirt — is a layer that can take you from winter to spring, from work to casual wear, to just about every occasion. This is one of these essential pieces that gets passed over by most men because, maybe, it's not seen as an essential wardrobe piece. Not so!
Fortunately, there's a lot to choose from out there. Everlane's fleece-lined overshirt is a sure bet. The L.L.Bean x Todd Snyder wool shirt jacket adds just enough style detail to make it a little more than basic. If you're looking for more variety, the Bonobos sweater overshirt comes in a very cool plaid print.
But if you want a real level-up, check out Josh Duhamel shirt jacket on Fatherly's cover story. You don't have to be a Hollywood leading man to make a pair of track pants and a t-shirt look dressed up (he certainly pulls it off). Let's face it, it's the jacket that pulls it all together. Vince's Splitable Drape Shirt Jacket will run you $645 — nothing to sneeze at, but an investment doesn't quite require a movie star's salary. Besides, you'll be wearing it for years to come — and not just in one season every year.
The Vince's Splitable Drape Shirt Jacket is part of Vince's Special Edition 20th Anniversary Collection. It's made of a recycled wool blend and is fully lined, making it comfortable to wear all day. If the two front pockets aren't enough to impress then you'll get a kick out of the nifty side entry pockets. It's the perfect camel shade that goes with everything. The hidden buttons are a nice touch when worn fully buttoned up.
Now is the time to amp up your wardrobe, so if you're willing to make the purchase this is the jacket to do just that.