10 Waterproof Watches For Men to Wear All Summer Long
Stylish timepieces you can take to the beach.
by Nicholas McClelland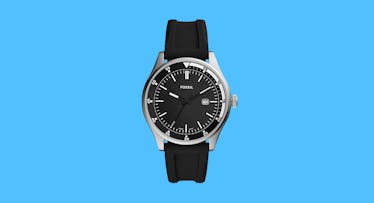 If you're going to be spending much time at the pool this summer, it's a good idea to wear a watch. Sure, your phone tells time but it's not a great idea to leave it near the water. Even if it's vaguely splash resistant, all bets are off if it comes to rest 15 feet below the surface. A watch you can wear in and out of the water not only helps you keep track of the day and how much time you and your kids have spent in the sun but also settle sibling rivalries.
But you don't want to wear just any watch. There are a few criteria for choosing the right timepiece. "First and foremost, make sure you choose a watch that is truly water-resistant," watch collector and founding CEO of Crown & Caliber, Hamilton Powell said. "This means you will likely need to steer towards sport-watches." Thankfully, there is a bevy of options at nearly every price point, so you can find a smart looking watch no matter what kind of cheddar you have to spend. Powell also would advise against wearing a leather strap in the water. "Leather isn't the best choice for the pool. Put your watch on a rubber or NATO strap or even your metal bracelet."
Here are 10 watches you can wear to the pool and not worry about.
Fossil Belmar
The Fossil Belmar is a slick, 44mm quartz watch that punches well above it's sub-$100 price point. Water resistant to 50 meters, this iteration is set on a silicone strap, so it's definitely ready to get wet.
G-Shock Breezy Rasta
We're suckers for a bright, bold G-Shock. This one not only screams summer fun, but it's water resistant to 200 meters, which is way deeper than any pool you're likely to dive into. It also features an easy-to-read, 1/100 of a second, digital stop watch so you can time your kids laps or officiate a breath holding contest.
Seiko Prospex
If you're at the pool, chances are you're going to get some sun. So, your watch might as well take advantage of it. Seiko's solar-powered Prospex diver watch can get a full 10-month charge in roughly three hours of direct sunlight or roughly the amount of time it would take us to work up a decent burn. It's also water-resistant to 200 meters, so if you need to cool off while charging up, you can diver right in.
Autodromo Group B Cosica
While the Autodromo Group B is a racing-inspired homage to 1980s design, it's Corsica blue face and pink accents make it sure to pop by the pool. This summer stunner is water-resistant to 50 meters with a mechanical, automatic movement housed in titanium a titanium case for light-weight durability.
Zodiac Super SeaWolf
Inspired by the blue of the ocean, this limited edition Super Sea Wolf 53 Compression features a black rubber strap and a Zodiac's rock-steady Swiss-made STP 3-13 automatic movement. The 40mm size is big enough it won't get lost on larger wrists and wont overwhelm smaller ones.
TAG Heuer Carrera Calibre 5
This TAG Heuer's white face paired with a a stainless steel case (and bracelet) makes a beautiful monochromatic statement that works whether your wearing a bathing suit or one with three pieces. The Carrera also features an anti-reflective crystal, making it easier to read in the summer glare plus it's water-resistant to 100 meters.
Ball Engineer Hydrocarbon AeroGMT II
The automatic, mechanical Ball Engineer Hydrocarbon is water-water-resistant to 100 meters, which is cool, but cooler still it uses 44 micro gas tubes on the hour, minute, second, second time zone hands, as well as the dial and bezel to create some serious luminosity so you can read it even if you're out for a midnight swim.
OMEGA Seamaster 300
Is there a sexier watch than the OMEGA Seamaster 300? – A rhetorical question if ever there were one. This tasty bit of wrist candy also features OMEGA's rugged Master Co-Axial calibre 8400 automatic movement for precision time keeping and it's water-resistant to 300 meters incase you find yourself swimming in the deepest end of the pool.
Rolex Submariner
The rugged Submariner is one of the most iconic wristwatches ever made. Automatic, water-resistant to 300 meters and easy to read it's a -near-perfect selection for a summer at the pool. "My choice for the pool is a Sub. I can play with my kids without worrying and even if gets a little banged up that's ok," Nolan said. "It gives the watch character, and when I pass it on to my children, hopefully it will remind them of times we played together."
Blancpain Fifty Fathoms
If it was good enough for Jaques Cousteau, it's probably good enough for you. The famed oceanic explorer wore the Fifty Fathoms in his seminal film The Silent World. The first modern dive watch, initially created in 1953, was more of a tool for divers than a statement piece. Over the last 60 plus years, Blancpain has made some updates, for example the watch was only water-resistant to 50 fathoms (about 91 meters) and now boasts a depth limit of 300 meters, but the overall design has stayed true to the horologial vanguard.
This article was originally published on