8 Pairs Of Pants That Are More Comfortable (And Stylish) Than Jeans
From chinos to corduroys, here are 8 very good reasons to skip denim today.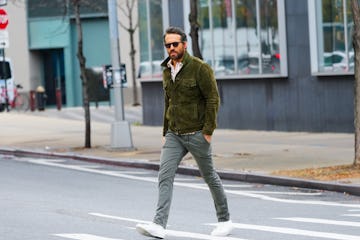 Gotham / Getty Images
We may receive a portion of sales if you purchase a product through a link in this article.
Jeans are addictive. They're reliable and durable, comfortable and easy to pair with just about anything. This is why most of us have a jeans habit. It's not necessarily a bad habit, but it's causing us to miss something. Namely, a world of soft and colorful fabric that help us stand out a little, look more refined, and — trust us — feel more comfortable.
The world of men's pants have changed since the days of crisp, uncomfortable cotton Dockers. Thanks to countless combinations of fabric blends, chinos, commuter pants, corduroy, and stylish sweats have a spring in them that helps them sit and fit and feel good from right off the shelf (something that simply can't be done with selvedge jeans). The fabrics also allow for a brighter and greater variety of colors, including blues and greens and golds that stand out from the crowd.
If you're not convinced yet, here are 8 reasons to make your next pants purchase jean-free.