Trevor Noah Wears a Formal Pink Jacket — And So Can You
Pink shirts are commonplace — from bright button-downs to salmon golf shirts. But pink jackets? That's a bold, and fun statement.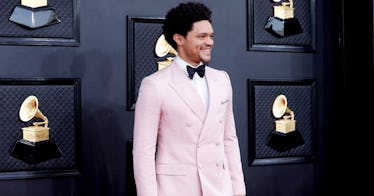 Frazer Harrison/Getty Images
It used to be that pink on a man was a radical statement. Now, it hardly turns a head — as a flourish or highlight to an outfit at least. But when someone — especially one as prominent as the Grammy Awards emcee Trevor Noah — shows up in a pink double-breasted dinner jacket, it's enough to dust off the old debate over this once "feminine" color. By taking a classic black-tie look and capping it with a Gucci statement piece, he shows us all that formal doesn't have to be boring.
Why It Works
The jacket is well-tailored to fit Noah's body. A jacket that fits looks good: There are few exceptions to this rule.
He lets the jacket stand out as the statement piece it is — with no accessories to draw attention away from it.
A double breasted blazer is more formal and has that extra fabric to stand out — when it pops in pink.
How You Can Make It Work
Take a queue from Noah and let the jacket make the boldest statement. Pairing a pink jacket with all black for a sleek and fashionable look. But color is fun — the number one most important thing is that the blazer fits. Get it tailored if you can, and at the least choose a fit that works for your shape and body. Try going minimal with the accessories and let the jacket speak for itself.
This article was originally published on