The Timex Marlin Sub-Dial Watch Is An Instant Classic — For Less Than $300
The new mechanical watch flawlessly blends classic and modern elements.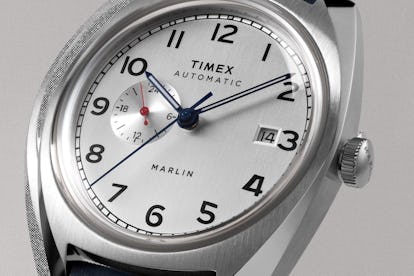 Fatherly/Timex
We may receive a portion of sales if you purchase a product through a link in this article.
It's not often that a new mechanical watch is released for under $300 that has the swagger of a classic you could pass on to your kids. But here we are: Timex's new Marlin Sub-Dial is a handsome mechanical watch with perfect proportions and a price that won't give you pause.
Timex turned to their back catalog and took inspiration from their 1960s-era Marlin watches when designing this modern reinterpretation. It includes vintage Marlin elements like the silver dial, a classic font, and the slim hands of Mid-Century Marlins. But then it pairs those nostalgic touches with new details like a 24-hour sub-dial with a contrasting red hand, a mix of brushed and polished steel on the case, and a larger and more modern size. This is a watch where design, proportion, and value come together in near-flawless harmony.
Timex made some of the world's first wristwatches when they converted their womens-only watches for soldiers in WWI. They added fuse timers for the U.S. Military and their expertise in making precision instruments en masse led to far better prices than their Swiss counterparts could offer. Timex watches have always been solid watches at a great price; a Marlin would have cost you under $20 in the 1960s. While it's a bit north of that now, what you get here for $269 is undeniably fantastic value for money.
The Marlin comes in three different colors: a silver dial with a blue strap, a silver dial with a brown strap, and a black dial with a black strap. The silver dial has a brushed metal look that, apart from feeling 60's mod, glimmers with a perfect mix of matte and sheen. The sub-dial catches the light in a radial way different from the rest of the dial so light becomes its own design element with this watch. All three versions have a tiny red hand on the 24-hour sub-dial for a subtle touch of color.
The hour, minute, and second hands on the blue strap version of the Marlin are black, the hands on the brown strap version are royal blue, and the hands on the black dial version are white — making the black version the best choice for legibility. The retro font numerals and hour and minute markers are painted onto the brushed metal dial. The dial is not busy, but it has enough going on to be interesting to look at. One critique of the dial is that the date window is tiny, almost too small to be practical, and it crowds the numeral "3" in a way that is not entirely appealing. Another slight criticism is that while the hands are lumed, they are so slim that the amount of luminescence on them is difficult to notice in the dark.
The case has a distinctive cushion shape and is 39mm in diameter, which is a very versatile size that looks great on most men's wrists. And just like the metallic dial, the steel case turns light into an element of design in the way its mix of brushed and polished steel reflects light in different ways and at different angles. The light play of the steel case and silver dial combo is almost like the way the sunlight catches on the scales of the fish it's named for.
The Japanese automatic movement inside is self-winding, and you cannot wind it manually. When fully wound by the movement of your wrist, it maintains a 42-hour power reserve. There's a small round window on the case back to view the Miyota 8217 movement whirling away inside. But the true star of the case back is a laser-etching of a Marlin in a tail-twisting maneuver. And true to the classic 60's Marlins that were buckled to lobster claws underwater in advertisements, the new Marlin is water resistant to 50M.
The leather straps are worth a special mention, as they're above and beyond what you'd expect a watch at this price to come with. They're made by S.B. Foot Tanning Co. of Red Wing Minnesota, the tannery that makes the leather for Red Wing Shoes. They have a durable outer layer and a soft and supple inside leather lining that makes them instantly comfortable with no break-in needed. Even the polished steel strap buckle looks and feels premium. The straps also have quick releases for easily changing them without any watch tools––not that you'd want to. The Marlin Sub-Dial watch is available now at Timex.com.