The Perfect Anti-Aging Skincare Routine for Men
Learn the bare basics of anti-aging skincare for men and how to adapt your daily routine to be even more effective.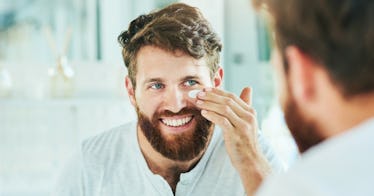 Moyo Studio/ Getty Images
Admit it—getting old is not nearly as bad as you thought it would be. You don't feel as worn down as you'd imagined, you don't spend hours on end rocking in a rocking chair (although if you do, that's awesome), and you certainly don't look as ancient as you anticipated. A lot of that comes down to adopting healthier habits earlier in life, such as exercising or eating well, that help mitigate the wear and tear on our bodies. This is especially true for our faces, as more guys than ever are getting their skincare game on early in life and staving off the fine lines, sagging, and wrinkles that had us thinking we'd turn out looking like our grandfathers by the time we hit 50.
However, the skincare stuff you use in your 20s may not be doing enough once you hit your 30s. This means it's time to shift your focus to anti-aging products designed to help maintain your youthful looks. The good news is that upping the ante on your skincare routine is easy and it won't break the bank. To help us navigate the world of anti-aging skincare for men, we enlisted the help of board-certified dermatologist Dr. Julie Russak of NYC's Russak Dermatology Clinic to see what works, what you need, and when to use it.
Why Make The Switch?
We know what you're thinking: anti-aging products are for the old. Wrong. According to Dr. Russak, "Anti-aging skincare is not so much about reversing aging as maintaining healthier skin for longer." Think of anti-aging skincare as the best way to get a solid ROI from all the effort you put in already. In fact, a basic wash-and-moisturize routine when you're younger is, in effect, a form of anti-aging skincare because it keeps your skin healthy, but as we get older our skin needs certain products with a bit more oomph to maintain its hale and hearty appearance.
What Makes Anti-Aging Products So Special?
Beyond the clever marketing, what makes a product "anti-aging" is the inclusion of several ingredients that are shown to have a real impact on the look and feel of our skin. Ingredients to look for include retinol, which can help to improve skin's firmness, clarity, and the look of fine lines and wrinkles, alpha-hydroxy acids (AHAs) such as glycolic acid, which speed up the skin's renewal process, vitamin C, which is a potent antioxidant known for helping to boost the firmness and brightness of skin, peptides, which are amino acids that can help stimulate collagen production, and hyaluronic acid, a compound which holds up to 1,000 times its weight in water and helps to deeply hydrate skin for a plumper, smoother appearance.
The Bare Basics
A basic anti-aging skincare routine for men doesn't have to be elaborate, painful, or expensive. Dr. Russak walked us through a simple routine any guy could get on board with.
Step 1: Cleanse
What It Does: "Cleansing is very important to remove any dirt from the face, and it's important to cleanse both in the morning and at night," she explained. While your basic foaming cleanser can still do a great job, now is a great time to take stock of your skin's needs. As we age, our oil glands tend to dial back on sebum productivity, so you may want to choose a cleanser that's milder, like Simple Kind to Skin Moisturizing Face Wash ($5.89). On the other hand, if your skin is normal to oily, opt for a cleanser that offers a bit of exfoliation to help boost the skin's cell renewal process, such as Jack Black Deep Dive Glycolic Facial Cleanser ($23).
When To Use It: Twice a day, morning and night.
Step 2: Serum
What It Does: Serums are lightweight products that are supercharged with active ingredients that can make a profound effect on your skin when used daily. Think of serums as the power tools of your skincare routine. A great place to start is with a basic peptide serum like The Ordinary Buffet ($14.80), which, like its name suggests, contains a veritable buffet of ingredients including several peptides to keep skin smooth and hydrated. If you're ready to go advanced straight away, go with a retinol-based serum like The Ordinary Retinol 1% in Squalane ($6.70), which can help tackle fine lines and wrinkles, or a vitamin C serum like Kiehl's Powerful-Strength Line-Reducing Concentrate ($92) to give skin an overall boost in brightness, smoothness, and clarity, while increasing hydration thanks to the inclusion of hyaluronic acid.
When To Use It: After cleansing and before moisturizing, usually morning and night, but make sure to follow the product instructions to avoid overuse.
Step 3: Eye cream
What It Does: "The skin under the eyes is incredibly thin and delicate, and wrinkles easily with age," Dr. Russak explained, so do yourself a favor and get into the habit of using an eye treatment early on in life. Considering its importance, eye cream is definitely an area where, if you're able, you may splurge a bit. Dr. Russak recommended Erno Laszlo Multi-Task Eye Gel ($72) which is stacked with soothing and hydrating ingredients like algae extract and peptides that help to reduce puffiness, lines, and wrinkles around the eye. If your eye area is extra dry, opt for Paula's Choice Anti-Aging Eye Cream ($35) which immediately hydrates and smoothes the eye area while peptides go to work tackling fine lines and wrinkles.
When To Use It: Twice a day, morning and night.
Step 4: Moisturize
What It Does: "A moisturizer is very important for day and night to keep hydration levels balanced," Dr. Russak said. The key to getting your moisturizer right is choosing one that complements your skin's needs. If you're on the oily side, go with a lightweight formula, like CeraVe AM Facial Moisturizing Lotion SPF 30 ($18.99) or Kiehl's Facial Fuel Energizing Moisture Treatment for Men ($35). If you're on the drier side, choose a moisturizer that contains barrier-boosting ingredients like shea butter and squalane, such as Clinique for Men Anti-Age Moisturizer ($41) or Versed Dew Point Moisturizing Gel-Cream ($11.99) which is loaded with hyaluronic acid and aloe vera extract to inundate skin with moisture without feeling too heavy or greasy. For extra wrinkle-fighting action that works with all skin types, opt for a retinol-laced product like PC4MEN Nighttime Repair ($35).
When To Use: Twice a day, morning and night. However, if you opt for a moisturizer with SPF, save that for daytime use only and choose a non-SPF product for at night.
Step 5: Sunscreen
What It Does: Sunscreen isn't as much a step as it is an essential. The sun is literally the worst thing for your skin. Exposure to UV rays can cause skin to become less elastic, thicker (or even leathery) in texture. Over time, too much sun can affect your skin's underlying connective tissue, causing wrinkles and lines. So, unless you want to effectively render all your time, effort, and money spent on anti-aging skincare moot, wear SPF as the final step in your skincare routine every day. Every single day. Even if there's no sun. Opt for a formulation that's high in SPF and lightweight in texture, such as Neutrogena Hydro Boost Water Gel Lotion SPF 50 ($15.99). You can also kill two birds with one stone and choose a moisturizer with SPF already included.
The Final Takeaway
When it comes to looking your best, all it takes is a few minutes a day and the right products and ingredients to make a real difference. Remember, an anti-aging approach to skincare isn't about turning back time, but rather helping skin to look and feel healthy while maintaining that health. As our largest organ, skin is equipped with many functions and mechanisms to protect and defend our bodies, so the better care you take of it, the better off it'll be.