The Best Amazon Sales of 2019: Tech, Home, and Parenting
Saucony kicks for the win.
by Donna Freydkin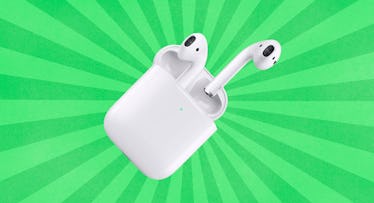 So you've gone through summer and maybe you're in a bit of a haze. In between firing up your grill and handing out the brews, you should probably take a look at some of the crazy Amazon sales out there on everything from Saucony sneakers to an arcade game we want right now. We've curated a list for you of stuff you'll love, because it's stuff we love.
Best Amazon Sales
This best-in-class meat thermometer uses algorithms to estimate how much you need to cook your food. It alerts you on your phone when your grub is ready. And it has a longer-ranger WiFi reach so you can leave the room and not burn the brisket. Its dual temperature sensors in each probe can monitor internal meat temperature up to 212°F and ambient and external temperature up to 527°F at the same time.
Get the Apple Watch 4 for a great price. It comes with GPS, a display that's 30 percent larger, electrical and optical heart sensors and a 50 percent louder speaker.
This baby monitor is purely plug and play. And it has a sound activated LED bar that lets you see when your baby is crying. This baby monitor has zero load time delay-free playback on a dedicated monitor screen without hogging your smartphone.
Connecting seamlessly with Apple devices (simply open up the case's top and follow the prompt on your iPhone), the performance is flawless as well as intuitive. Simply remove one of the buds from your ear and the music pauses, resuming immediately when it's reinserted. Slip them into the battery case when not in use for a charge.
So you think you don't need an arcade at home? Sorry, you're frozen inside. This dope as hell arcade game has a mini Rotary control with swappable spinner caps. Plus, you get a wood cabinet construction with illuminated marquee and cabinet accents. Oh and you can play for hours thanks to its built-in rechargeable battery.
These Saucony Labor Day sale sneakers are damn cool, without you ever looking like you've been scouring fashion Instagram posts and trying oh so damn hard. They're inspired by classic running shoes, but have the comfort contoured EVA midsole.
Get ready to cook, cook, and cook some more with this beast of a set. You get a a 10.25 inch cast iron skillet, 10.5 inch round griddle, five quart Dutch oven with a lid. There's no excuse to not whipping up a major feast.
Just because they say summer is over doesn't mean it's time to hang up your barbecue mitts. This Weber grill has the GS4 grilling system with improved infinity ignition, burners, porcelain-enameled glamorizer bars, and grease management system. You get 30, 000 BTU-per-hour input main burners with fuel gauge. You can hang six tools, too, so there's an excuse for a charred T-bone.
This set of four steak knives has a serrated edge, and doesn't need much in the way of sharpening. Filet mignon, you've been warned.
This air purifier is so quiet, it barely clocks in at 30 decibels. It captures 99. 7 percent of microscopic particles on silent mode including dust, pollen, smoke, and pet dander. If you have pets and kids (ding, ding, ding), get this thing. You'll thank us for the clean air. It has a digital display to alway show you it's working.
This saucy red Instant Pot is a pressure cooker that also doubles as a rice cooker, slow cooker, yogurt maker, warmer, and it also sautees and steams. It's six quarts in size, and one Fatherly editor says it makes the greatest applesauce in this galaxy.
We like that it has a viewing window, for us obsessive cooks, and lets your sear at 450 degrees or use adjustable temperature dial to grill at lower heat.
This garbage can has an odor control system, to keep those nasty diaper smells away. That's because just the motion of your hand opens the lid.
The Polar fitness tracker is a continuous heart rate monitor, calorie counter and sleep tracker all in one understated and cool package.
This wireless Bluetooth headset is compatible with both Apple and Android devices. It does the thinking for you: It can automatically answer calls as you place the headset on your ear or redirect audio to your phone when you set down your headset. Like your own personal phone butler.
These wireless earbuds have mic and volume control, of course. But they're also waterproof and the audio quality is top notch. They pair easily and each earbud is magnetized.
How easy is this sous vide to use? So very easy. This particular sous vide cooker has a temperature control accuracy of ±0.1 degrees Farhenheit. Meaning, it's very, very accurate.
The genius Muse gives you realtime feedback when you're meditating, to make sure you're getting the full benefits of it.
The battery on this thing lasts over 12 hours, enough for the all but the longest of parties. It's also waterproof so you don't need to worry about it if your picnic is interrupted by rain.
This svelte black disk connects to any speaker using a 3.5mm cable or Bluetooth, and its mic is built to pick up your voice from across the room even when the music is playing.
Electric toothbrushes, at this point, are so tricked out they basically do your laundry for you. This one is basic. It's reliable. And it gets your teeth six times cleaner than using a regular manual brush thanks to sonic technology that delivers 31,000 brush strokes per minute.
This Fatherly editor has tried every electric toothbrush on the market (perks of the job, what can we say), and this tried but true one is still one of the best. At the best price.
If you don't want to spring for a super-fancy electric toothbrush, then just get this Sonicare. It has a pressure sensor that protects teeth and gums from over-brushing and reminds you when it's time to replace your brush head. Plus, it makes sure you brush your chompers for the recommended two minutes.
This electric toothbrush is Bluetooth-enabled, and has four different brush heads that automatically pair with the right brushing mode to give you the optimal clean, and provide you with realtime feedback.
Every product on Fatherly is independently selected by our editors, writers, and experts. If you click a link on our site and buy something, we may earn an affiliate commission.