How To Get A Tattoo When You're A Dad
Everything guys need to know about getting a tattoo, from concept to after-care — for dads.
by Dan Michel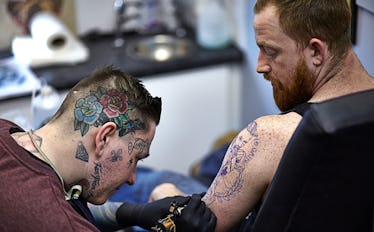 Jamie Garbutt / Getty Images
It's 2023, and tattoos are more ubiquitous than ever. And not just for musicians and TikTok stars—parents are rocking them too. A recent survey found 62% of Millennial parents had tattoos, more than any recent generations before them. Not only are parents more open to getting tattoos, but they're generally more thoughtful about it too.
"Older people think about their tattoos more," says Adrianna Zaretsky, a tattoo artist at East River Tattoo and The Mikiri Gallery in New York City's über-hip Greenpoint neighborhood. "People getting tattooed at that age usually come in with more intention and a more meaningful idea."
Another advantage: We're more likely to care for them the right way versus the younger generations too, Zaretsky says. Still, for the uninitiated, a tattoo can be daunting. Here's everything you need to know about getting a tattoo—whether it's your first or fiftieth—from picking the right concept and artist to how to care for it after.
Where To Start
If you're new to tattoos, start the process simply by looking for local artists whose style you love, via Instagram or other social media. Try to find styles and techniques that speak to you, like shadowing or fine lines tattoos. Once you've found someone, go to them with an idea that's meaningful—but don't overthink it. "You don't need a fully fleshed-out idea," says Zaretsky. "They can translate your idea into art."
How To Vet A Tattoo Artist
Instagram has also given the spotlight to many up-and-coming artists, but you should still inspect their work. Do they have clean lines? Have they worked on multiple types of skin, including melanated skin? Also, check out the reviews. If they look legit and the work is clean, you should be ok. If they're working out of their house, maybe think twice.
Let them know it's your first time and see how the artist responds. They should be open and willing to answer every question without rushing you. "No question is dumb," says Zaretsky. "This is your skin we're talking about." Find someone who'll go at your pace.
How To Choose Tattoo Art
Start with an idea that has meaning: family, friends, and significant life events. Initials, dates, and symbols are good places to start, but your artist can help you develop an idea too. For first-timers, it's recommended to start with black ink and start small—the size of your palm or less.
However, if your idea includes lots of colors, be sure your artist uses black lines to contain it. "Colored ink spreads faster over time than black ink," she says. "Your artist should use black lines to hold color in place and create contrast."
How To Care For Your Tattoo
You shouldn't have to worry about the pain of being tattooed unless you get one in a sensitive area. Instead, worry more about preserving the tattoo over time. It all starts with the healing process, which has changed since the days of Aquaphor and cling wrap. "Actually, too much ointment can leech the ink out of your skin," says Zaretsky. So use it sparingly, if at all.
Zaretsky prefers a simple solution: an alcohol wipe and the transparent film dressing (the kind used to treat burns). Keep it on for a few days and let it naturally come off in the shower. Then, only after the tattoo is healed, use sunscreen every day—especially in the first six months. It will help preserve the color, especially light grays, and protect color over time.