Queer Eye's Tan France Has A Simple Tip For Juggling Baby, Career, And Life
Time to take a break, with Tan.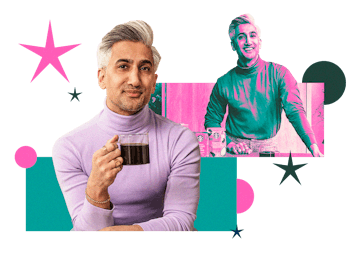 Ariela Basson/Fatherly; Courtesy of Starbucks
Despite what you might expect, Tan France is a pragmatic parent who makes practical, not fashionable choices for his kid. "My baby is in a onesie all day every day," he admitted in a video with the baby formula brand Bobbie. "We have to change his diaper at least 7 or 8 times a day. I'm not taking the time to take him out of jeans and a sweater. I want to get in and get out". Still, there's no getting around the fact that France is not exactly a normal parent. He has way more to juggle than most of us.
Best known as the fashion expert on Netflix's "Queer Eye," France has one helluva schedule. He hosts the show "Next In Fashion", is the Lead Stylist for the clothing brand Express, writes, and, of course, has a one-year-old. So he needs to change diapers, keep up with the sleep schedule, and still look good doing it. But how?
Tan France answers this question with his characteristic calm. "You need to switch off," France says. Take a break. It's advice that might only really bear weight when coming from someone who is legitimately busier than us.
Appropriately, France recently partnered with Starbucks for its Spring Coffee Break campaign, where he's taken the show to the road to encourage people to take time off from their busy schedules. During our conversation, France emphasized the importance of taking breaks and making time for oneself, especially for busy dads like himself. "You can't do that 14 or 12 hours a day that your children are awake without a moment of recharging." Here, France talks about how he finds time for breaks, why Spring is a great time to look at your style and habits, and the only piece of clothing that you need to look great this season.
You're here to talk about taking a break for Spring. What does this season mean to you?
You know, I like to switch up my style a lot. I like to switch up every aspect of my life a lot. So you know, the weather is miserable on the East Coast and in Utah too (where France and his family call home). By the time we get to spring, it feels like something's new. It feels like you can live a completely different life, which is so nice.
How do we get back to life after the last couple of years, and in particular, this new season? So in every aspect of my life, I change so much about my home in the spring, I change a lot of my fashion in the spring, especially after a couple of years we've been through, a heck of a lot changes. That's why in my opinion, this is the perfect campaign, and also people get to win a coffee date with me.
Can you give any advice specifically for dads on the importance of taking breaks?
I have a one-and-a-half-year-old and my husband and I made an agreement. He realized that we were going to be better parents if we had a chance to have 5 or 10 minutes every few hours to decompress and to recharge because as a parent, you are on the go so constantly, especially if you have a child who's energetic. Our son is incredibly energetic and needs constant attention. So we switch off, I will have half an hour where I can go shower, I can go iron my clothes, I can go have a cup of coffee, those moments a couple of times a day make all the difference in how I parent.
I know as parents, "me-time" becomes necessary, but it can be challenging for them to take that time.
To be fair, I make a point of taking [time to myself]. I make a plan of taking that moment, a couple of times a day, and so does my husband. We prioritize that. In my opinion, it's not a selfish move, and I will inform other people to do it. It gives you an opportunity to step back for a moment. It then gives you an opportunity to be more engaged with your child. So yes, I know that people might think 'Well, that's a little selfish to take time for yourself'. It absolutely is not, It's necessary.
Everyone gets in a rut with grooming routines and wardrobe routines. Do you have advice on how to get out of that?
When it comes to spring in particular, for any man who's already got a skincare regimen that they like, change your moisturizer, if you've got something thicker for the winter months, go for something lighter. I always say spring is the moment to try things new. Try another brand. See if something else out there is better for you. When it comes to clothes, stand out of your comfort zone. If you're the kind of guy who always does the neutrals, maybe try a pop of color. If you're the kind of person who typically wears a sweatshirt, maybe try a cashmere sweater or a sweater that just feels a lot more elevated. I call them easy swap-outs, so it doesn't feel like you are trying to become something you're not. It's a really simple swap-out that feels still feels like you. It's just elevated you.
Could you suggest one thing that a guy might do to refresh his wardrobe for spring?
This time of year it's still a bit cold and rainy. You still need a layer. When you're out on the street, nobody's seeing the top you've got underneath. The thing that they are going to see is your outerwear. Invest in one piece of outerwear that makes you feel fantastic. It doesn't need to be a super statement piece. It can be something simple, like a leather jacket that feels a little more sophisticated than just the hoodie. It doesn't feel like you can't wear it over and over again. if you're already comfortable with your outfit, maybe it's an accessory or a bag that feels like it makes sense for you. Whatever feels like a style statement for you that you haven't really tried before, try it this season.