The Best Hair Loss Shampoos For Men
They can help preserve and protect your hair before it's too late.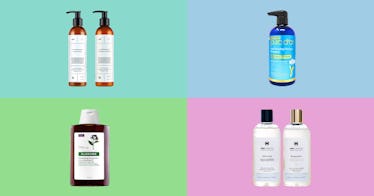 If you've noticed that the hair on your head isn't quite as glossy or magnificent as it was when you were younger, there's no time to spare. Hair loss is a very real issue, and it can trash your confidence because it impacts how you view yourself and how the world sees you. It's normal to lose about 100 hairs per day, but a receding hairline, a bald spot, or overall thinning of the hair are all warning signs that you might need to explore the some highly effective hair loss shampoos for men. And while loading up on the best shampoo for hair loss is a smart move, you want to visit your doctor first to find out why your hair is thinning.
In most cases, it's androgenic alopecia, which basically means genetic hair loss, and in many cases, it stems from having an unhealthy scalp.
"Scalp health is very important to hair health. Oftentimes patients with hair loss have low-grade scalp inflammation that may exacerbate their hair loss. This can be caused by seborrhea, psoriasis, or eczema," says Dr. Gary Goldenberg of Goldenberg Dermatology in New York City. "Seborrhea and psoriasis are the most common forms of scalp irritation."
Inflammation of the scalp can lead to hair loss because when the follicles become irritated, the hair root is weakened and more hair falls out. That's where hair loss shampoos can make a major impact. Are these shampoos a silver bullet? No. But they can make your scalp healthier, thus leading to less hair loss. And that's a win-win.
Every product on Fatherly is independently selected by our editors, writers, and experts. If you click a link on our site and buy something, we may earn an affiliate commission.
This article was originally published on