7 Lined Boots to Treat Your Feet Right on Cold Days
That extra insulation goes a long way.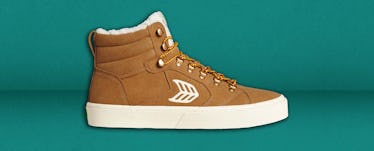 Chances are, you have a reliable pair of winter boots that have seen you through at least a few seasons. But on those arctic-esque days when you must trudge through all manner of wet, what you really want is pair of warm, slush-kicking, lined boots. That's right, lined boots, which have an extra layer of warmth to keep your feet cozy as you shovel the driveway, march out to scrape your windshield, or run those cold-weather errands. . The best lined winter boots for men come in all shapes and sizes. Some fall on the more technical side with mountaineer-approved features and extra-thick insulation; others are more style-conscious, often made of leather and with a layer of soft shearling providing the warmth. Whichever you prefer, a great pair of lined boots, much like a great parka, are a critical part of your seasonal gear rotation. Here are some of our favorites.