Heirloom Watches: 7 Timepieces to Pass Down to Your Kids
We've given our children the gift of time. It seems fitting to give them a way to measure its passing and to use it well.
by Nicholas McClelland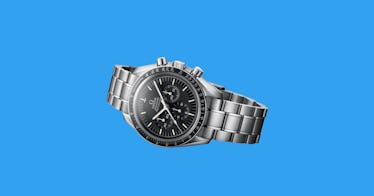 A fine, mechanical, wrist watch is an elegant reminder of our relationship with time and its finite nature. They are totems urging us to keep on keeping on and to do that which needs doing before your moments are gone.
Watches are also something we pass down. As we have given our children the gift of time, it seems fitting to give them a way to measure its passing and to use it well, fleeting as it is. Of course, they also serve as a reminder of us, of our relationship and our love. An heirloom you wore day in, day out is a gift that will resonate and they will cherish.
"Very few things are timeless, and a watch is just that," said Hamilton Powell, collector and CEO of the watch broker Crown and Caliber. "We live in an age where it is very difficult to predict what will and won't be in style when my kid is in his or her 30's, but I can pretty much guarantee a watch will."
In short: A legacy wrist watch is past, present, and future all wrapped up in a lovely case. Here are seven timeless men's watches to consider and passing on to your children.
Omega Speedmaster Professional
Known as the 'Moonwatch' thanks to its legendary contribution to the history of space exploration, the Omega Speedmaster Professional was initially produced as a racing and sports chronograph. Powered by a hand-wound movement, the iconic 42mm design is as effortlessly cool as watches come and cooler still as a hand-me-down.
Rolex GMT-Master II
Yes, buying a time piece from the most recognizable watch brand on the planet might seem a little obvious. But the Rolex GMT-Master II is a great choice for a watch you plan on passing down to your kid because the rock-solid automatic movement and classic design will both certainly outlive you. Also, you can rest assured the Swiss giant isn't going anywhere, so parts and service will be easy to come by even if it ends up on your great-great granddaughter's wrist.
IWC Big Pilot
This IWC is a watch that makes big declarative statement watch thanks to its size. The Big Pilot has a diameter slightly larger than 46mm, which despite its beefy dimensions looks great on all sizes of wrists. Inside you will find an in-house automatic movement with a seven-day power reserve and a soft iron inner case to stave off magnetic fields' effects on its time-keeping ability, making it built to last.
Zodiac Olympos
Finding a watch worthy of handing down that won't cost the arm you wear it on is a bit of a challenge. But, Zodiac's Limited Edition Olympos wraps a sturdy Swiss-made automatic movement in an elegantly minimalist design for under $1000.
Bremont Supermarine S500
While most dive watches present a similar aesthetic, British brand Bremont 's Supermarine puts a fresh face on an old classic. An automatic chronometer with a 38-hour power reserve, the Supermarine is water resistant to 500 meters and features a Super-LumiNova coating on the hands and indexes so you can tell time underwater or under the covers.
Weiss Field Watch
Manufactured in the Los Angeles, Weiss' Field Watch uses a hand-wound movement assembled from both Swiss and American parts. Beautiful in its simplicity, the 42mm Field Watch features an offset seconds hand and looks great on nearly every wrist and is celebrates made in the USA excellence.
Jaeger-LeCoultre Master Ultra Thin Perpetual
A horological prize, The Jaeger-LeCoultre Master Ultra Thin Perpetual measures a minuscule 9.2mm thick, a staggering feat given the complexity of the automatic movement. This watch not only tells time, but also three counters display the day of the week, the calendar, the month and the year. A fourth just below the 12 o'clock position shows the phase of the lunar cycle. While this Jaeger is certainly heirloom worthy, hopefully you're a father of an only child, because a watch like this is likely to inspire an unhealthy sibling rivalry.
This article was originally published on