The Best Hair Products for Men: From Gel, Pomade, Wax, and Mousse
When it comes to hair care, there's something for everyone.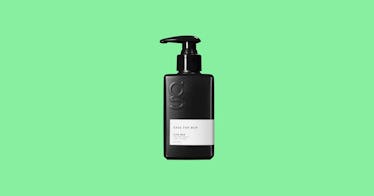 We may receive a portion of sales if you purchase a product through a link in this article.
No two types of hair are identical. But two men with similar hair can look wildly different with different hair products. (Hell, guys like Brad Pitt achieve so many different looks through hair products. Let that be a lesson.) Maybe you're a gel guy, spiky and hard, or a pomade man, slicked back and with a faint shine. Mousse gives volume, oil gives moisture, and wax provides hold. Regardless of the products you select, it ultimately makes all the difference provided you want to give your follicles direction. That's why it's crucial, then, to know the best hair products for men: Find that goldilocks product for your particular hair and you'll see a big difference in both the finished product and public perception.
Admittedly, when it comes to styling products for men, there are a lot of choices, and each is geared toward a specific look and length. The only truism is that no one product can achieve every style. In order to find the best men's hair products for your needs, you first need to select a goal and then select the tools to get there. So which is the best men's hair product for you? To offer some assistance, we've researched the latest to find some of the best for every style, breaking them down accordingly. From gel and mousse to pomade and wax, there's something here for every type of guy — and hair.
Best Hair Products For Men: Hair Gel
Hair gel is probably best remembered as the product that makes your locks look crispy and crunchy. That's because most old-school gels featured alcohol as a main ingredient. This sucked moisture from hair; the rest of the ingredients held it in place and made spiked or slicked-back locks seem less like hairstyles and more like evolutionary defense mechanisms. Today, however, the best men's hair gels are lighter in weight, contain less alcohol, and provide stability and shine to hair without making it shell-like. They're ideal for coarse or curly hair as well as for taming cow-licks and smoothing down strays.
Best Hair Products For Men: Hair Pomade
Pomade has been around since the early 20th century, and for good reason: The right one can take an average hairstyle and make it great by giving it hold and high shine. Traditional pomade was made of natural waxes and oils. These are still around. But more modern men's hair pomades made from cream and fiber are widely available, too. It depends on what you want. But if you only have one styling product, pomade is a great all-around option to have on hand.
Best Hair Products For Men: Hair Mousse
Men's hair mousse is a solid option for guys with longer hair who prefer to spend as little time on their hairstyle as possible. The foaming cream is easy to work through long locks and can be incorporated into the hair right out of the shower. Expect little hold, since mousse is mainly to smooth over longer styles while adding a bit of body.
Best Hair Products For Men: Hair Wax
Hair wax is a great option for guys who want to achieve a more easygoing look. It gives you a medium hold, but it still allows you to reshape your hair as the day goes on. Most hair waxes don't contain any alcohol in the ingredient list, so your hair will stay soft and well-moisturized.
Best Hair Products for Men: Hair Oil
Let's be clear: Oil isn't meant to style your hair. What it does is make it look shinier, glossier, and healthier. Adding a drop or two to your regular styling product will make your hair look thicker. Plus, it tames flyaways. Just don't go overboard or we have one word for you: Crisco.
Every product on Fatherly is independently selected by our editors, writers, and experts. If you click a link on our site and buy something, we may earn an affiliate commission.
This article was originally published on