The Best Basics for Dads: Faherty Shirts, Scarves, and Ponchos
Simple, timeless, durable. And always appropriate.
by Andrew Burmon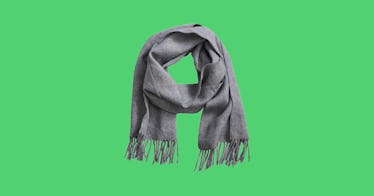 Every guy needs go-to wardrobe staples. Clothes that never look dated. That don't fall apart or shrink after three washes. That look appropriate, all the time. We're talking about a capsule wardrobe that will serve you well, for a damn long time.
Enter Faherty. Founded in 2013 by twin brothers and weekend warriors Mike and Alex Faherty, Faherty produces simple, durable clothes designed to work in any scenario. Because of the brand's outdoorsy sensibility, Faherty clothes tend to have some give. Because of the brand's upscale ambition, Faherty clothes tend to be office-appropriate. Faherty might not be the place to buy statement pieces, but it's an ideal place to find clothes that make the following statement: I'm an adult man and I know how to dress like one.
With Faherty, simple is best. You want softer, more sophisticated takes on everyday basics that dress up a pair of jeans or down crisp collared shirt. And everything on offer makes the weekday-weekend transition with grace, making it much easier to just throw something on and go. Here's what the editors of Fatherly (with a "t") recommend throwing on.
What makes Faherty's alpaca offering a standout is its simplicity and its color. You may not get super excited by the prospect of grey, but it goes perfectly with both blue and black, making it incredibly versatile. Wear it hiking or with a suit. It'll do nicely.
The term "shacket" lacks poetry. So let's call Faherty's Belmar CPO a shirt for your shirt. The best part, because the Belmar CPO looks great over a collared shirt, it represents a flexible office-friendly sweater alternative — one that looks great even if you've put on a few winter pounds.
Think of this as a traditional American workshirt for white-collar keyboard cowboys. This indigo staple looks good as an outer layer, as a stand-alone shirt, or under a blazer (just not a blue one).
You will, of course, when you go out in public, but the Whitewater is a classic piece of around-the-house wear that looks good, feels good, and can, thanks to that cotton-poly blend, take some abuse. If you're not finding random legos in the kangaroo pocket you're not wearing it right.
Just don't call it a drug rug. A playful play on the traditional (and traditionally sketchy) "Baja Sweatshirt," Faherty's doublecloth poncho is beach friendly reimagining of the hoody that won't get you kicked out of a restaurant even if it might look at home at a Phish show.
Men worry that cardigans make them look old, but what makes men look old is dressing young. Faherty's gray cotton offering is a perfect entry-level cardigan for men experimenting with the look. The ribbing is slimming and it goes well with jeans of any color. And it only looks better as it gets broken in.
Not only is this a well tailor jacket with beautiful detailing — the slim lapel, the soft pockets, the chunky buttons — it's an incredibly flexible garment because it's, well, incredibly flexible. The knit blazer has a remarkable amount of give, which makes it ideal for layering and almost sweater-like in fit. Rock it with a mid-layer or an oxford or a hoodie for that matter for an intentional and accessible look. Just try not to wear it every damn day.
Every product on Fatherly is independently selected by our editors, writers, and experts. If you click a link on our site and buy something, we may earn an affiliate commission.
This article was originally published on