5 Laid Back Essentials From Faherty Prove The Hype
There's a reason Faherty is all the rage right now.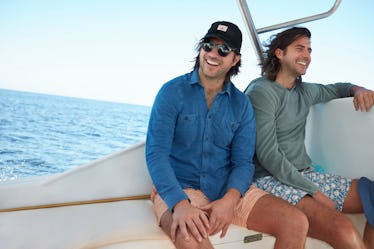 Photo Courtesy of Faherty
We may receive a portion of sales if you purchase a product through a link in this article.
It's hard to miss the sun-faded flannel shirts and garment-dyed stretch chinos and sweaters from Faherty these days. The brand has crept into the menswear zeitgeist with its chill, comfortable vibe that at the same time feels curated — earning the price tag that the $78 t-shirt or $158 button-downs garner. Faherty is a hot brand and, we think, worthy of admiration.
The company is at its core a family operation. Founded by two brothers (Alex and Mike Faherty), who wanted to create the "perfect" board shorts. The two grew quickly, evolving into a conscious and sustainable lifestyle brand, bringing Alex's wife Kerry in as the Chief Impact Officer soon after launch.
Together they found the perfect medium for how we dress today: not too trendy nor too stuffy — even with their more business casual-minded offering complete with pricier fabrics and tailored pieces, like cashmere sweaters and a line of handsome patch pocket blazers.
The basic pieces, like t-shirts and henleys, stand out in a crowd of casual-cool t-shirts and henleys thanks to small touches like garment-dyed fabric and dusty colorways, that make them more visually interesting than others in your wardrobe. But what makes them stand out — or at least keeps men coming back — is the quality of the products. This is clothing that is made to last — shirts and pants you want to keep, you're okay with patching up, and are there with you for the long haul. But don't take our word for it: Here are a few favorites from Faherty we love enough to recommend (and wear) ourselves.
Part flannel shirt, part shirt jacket, these impossibly soft, ultra-comfortable stretch shirt hybrid are not stiff or scratchy: It's almost like wearing a T-shirt, bolstered by the utility of two front patch pockets for your everyday carry. It comes in a whopping range of colors and is easy to button up on its own or wear unbuttoned over a Faherty henley. Once you try it, you very well might want to buy one for every day of the week.
Chinos needn't be stuffy or stiff: In fact, they can be about as comfortable as sweatpants, yet with the tailored appeal of the business casual chino. The slim-straight fit of these stretch terry chinos works for most body types, while the cotton-blend fabric is extremely stretchy for ease of movement around the office and around town post-work. Three versatile, neutral colors give you the option to wear these chinos with virtually any shade of Faherty shirt for a real one-two punch of casually cool, yet polished, daily style.
The remarkable thing about Faherty menswear is how the brand manages to take pieces that can normally be a bit uptight – like the blazer or the chino – then turns them into surprisingly comfortable picks to wear, well, anywhere. The Reserve Blazer takes cotton, wool, and a touch of cashmere, blends it with polyester for stretch, then fashions it into a handsome patch-pocket blazer you can wear with an Oxford shirt and knit tie – or else, over a graphic tee for a bit of edgy-meets-timeless style.
Faherty's surf-tinged roots make for a nice origin story, as does the fact that the company still makes a suitably retro-minded pair of board shorts. It's right in the name, after all, with a tri-stripe design that throws it back to the grand days of surfing in the '50s and '60s. The fabric is what elevates them into a modern vacation staple: It's quick-drying and made to resist wrinkles, and the 7-inch inseam should work nicely for most guys.
Before you hit the beach, equip yourself properly. Reach for a perfectly faded organic cotton pocket tee that Faherty designed specifically to call to mind vintage T-shirts you've had for years and years. The organic cotton fabric lends itself to a higher price tag, sure, but 10 color and pattern options drive home the point that this is a classic T-shirt fit for everybody.