David Ortiz Authentic New Menswear Collection Is Here For Stylish Dads
Hall of Famer David Ortiz takes a swing at more sustainable men's fashion — and connects.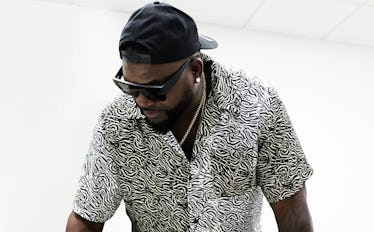 David Ortiz Collection
We may receive a portion of sales if you purchase a product through a link in this article.
World Series champion David Ortiz. "Big Papi" was bold on the field and off — a proud, stylish father of three. Now, over six years out of retirement, he's bringing his style anew, with a David Ortiz Collection that cut from much of the same cloth, a vibrant range of cardigans, bowling shirts, jeans, and outerwear befitting a larger-than-life personality.
The collection was designed to "embody the celebratory, bold attitude that is the core spirit of his vision," and one look at pieces like the colorful striped Forest Stream Denim Jacket or the Cheetah Print Bowling Shirt knocks that point out of the park quite nicely. Beyond just the vivid, runway-ready looks is sustainability.
"I love fashion but I want to do things the right way," Ortiz tells Fatherly by email. "The way clothing is made now is terrible for the Earth and the people who are making the clothing. Our model is sell before you make."
Pieces in the David Ortiz Collection are made to order in the Dominican Republic (Ortiz's home country), and Ortiz and creative director Rashad Randolph partnered with sustainable fashion consultant Resonance to ensure each piece is sustainably certified.
Randolph said the collection uses fabric from companies that are certified sustainable by the Global Organic Textile Standard, including materials like organic cotton. "The garments don't physically exist until purchased by the consumer," Randolph said, noting that each garment comes with a QR code outlining the fabric type and the amount of ink and water used in each piece.
"The DNA of my brand reflects my bold, extravagant lifestyle all while helping the people of my country," says Ortiz. They're also statement pieces that are a bold and fun addition to any man's closet. Here are some of our favorites.
Roll A Stylish Strike
Not Your Average Denim Jacket
A Cool-As-Can-Be Cardigan
Jeans Fit for A Home Run King
Silky Smooth Shorts