Chris Burkard Just Put Billabong Back on Our Radar
World-renowned photographer Chris Burkhard brings his eye to a new Billabong collection. It is wild.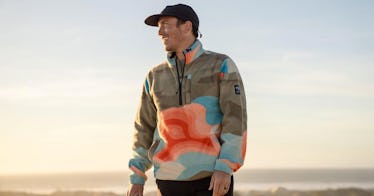 Is there anything that Chris Burkard can't do? The outdoor and adventure photographer has made a name for himself behind the lens with stunning images of natural beauty and exploration, the kind that call to mind a forgotten era of old-world travel off the grid. It makes sense, then, that he'd tried his hand at outdoor gear via the new Chris Burkard x Billabong A/Div Natural Camo Collection.
Part of Billabong's Adventure Division offerings, the collaboration celebrates Burkard's penchant for capturing outdoor landscapes. The partnership offers up gear in three capsules of camo patterns, each based off nature photos snapped by Burkard himself in places like Iceland and Greenland. Lusting for travel yet? Us too, but this new run of gear is the next-best thing. It's a neat way to approach outdoor gear, and it works quite well given that Billabong equips you to hit the surf and then venture inland. Here are a few favorites to buy from Chris Burkard's go-anywhere Billabong collaboration.
To meet the challenges of a frigid winter, reach for this soft recycled polyester hoodie from the collection's Iceberg capsule. It's fitting that the print comes from an image snapped by Burkard during an ice-trapped section of a Greenland expedition.
This looks like the kind of insulated jacket that might come in handy on cold-weather trips, does it not? You can't help but appreciate the PrimaLoft insulation and the mixed-media chest patch detail.
While not adorned with a striking visual, this classic black beanie features a warm wool blend build and a close fit to keep your noggin warm.
A visually rich woodland camo print meets cozy recycled polyester fleece and an outdoor-minded Durable Water Repellent finish. This fleece is fit for weekend lounging and off-trail adventures in equal measure.
If a jacket is good enough for the demands of Chris Burkard's adventures, it's good enough for you. Durable water repellent ripstop fabric turns this into a rugged and hard-wearing jacket fit for windy peaks.
Match your fleece with these bold, technical sweatpants if you're feeling particularly adventurous. Otherwise, wear them on and off the trail, all thanks to the ripstop detailing and cozy double-knit fleece.
This article was originally published on