8 Perfect Boots and Shoes for Spring Adventures
Spring is muddy and wet and the hardest time of year to choose the right shoes. We've got you covered.
by Jon Gugala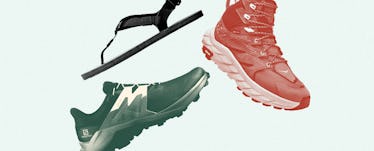 Spring is in the air. The warming sun, blossoming trees, migrating birds, and fresh trails all beckon. But don't put on your nice sneakers. Spring also brings in slick surfaces, muddy fields, and puddles from all that good rain. No wonder there are so many shoes made for this season.
But what to look for? First, we can dispense with the selling points that aren't so necessary. "Lightweight" is a great feature — but it's also something that just about any shoe worth its, well, weight can brag today. So if you're buying a brand name, it's probably lightweight. "Breathable" is also par for the course, even for most waterproof shoes today. And rugged? Let's just say there's underfoot protection in your biggest boot or even your lowliest outdoors sandal these days. What you should look for is a style preference. A high boot is for extra ankle support and protection for off-trail hiking, a low shoe for those who like to move light and fast, or a more minimal sandal for water sports or a barefoot feel underfoot. Here are some of our favorite new picks for your spring kicks.
Maximum Support
Speed Demons
Light and Breezy