The Best Silicone Wedding Bands for Men Who Don't Want to Lose a Finger
Lead an active lifestyle? Work with your hands? These replacement rings tell the world you're taken — and protect your finger from a gruesome fate.
by Hudson Lindenberger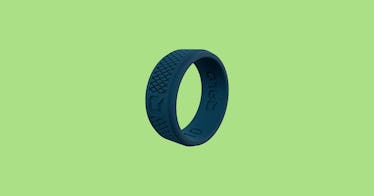 For anyone who leads an active lifestyle, plays sports, regularly works with machinery, or finds his hands frequently navigating tight spaces, silicone wedding bands for men are a must. And there's an obvious reason why: While some gadgets make life easier, silicone rings for men can literally save fingers. (But don't take our word for it; just ask Jimmy Fallon.) If one catches a traditional wedding band on a hard surface, the finger tears before the ring. With silicone, it's the other way around. So take our word for it: If, as a dad, you only want to pretend to remove your finger, then adopting one of our list of silicone wedding rings for men at least part-time is a critical component of retaining all (and not most) of your digits over the long haul.
Silicone wedding bands are a safer wedding band alternative. The danger of a traditional metal wedding ring comes from the difficulty of removal. If you injure yourself and your finger is sliced or swelling, a ring can be torture to take off. Then there's also the horrifying fact that if you slip and the ring accidentally catches on something — a rock face or, say, wooden framing — you could lose most of your skin. Why? Simple physics. Your body is still moving but your ring isn't. This is called "ring avulsion" or "degloving"— and yes, ring avulsion injuries or degloving injuries are just as disgusting as they sound. Just ask Jimmy Fallon, who, in 2015, tripped and caught his wedding ring on the kitchen counter. He was only able to save his ring finger with emergency microsurgery.
Now, you can certainly just leave your jewelry at home. But silicone wedding bands offer a way to be cautious while still showing your commitment — and many are wearing them full-time because the rings are so darn cool. The best rubber wedding rings — which are affordable and usually come in packs of three — are made from synthetic polymer flexible enough to be removed easily if there's swelling. And because they snap under stress, they help keep your finger safe. Much like standard wedding bands, the best silicone wedding bands for men and women come in a variety of patterns and styles. Interested? Here are the best silicone wedding rings and silicone wedding bands we've found.
Every product on Fatherly is independently selected by our editors, writers, and experts. If you click a link on our site and buy something, we may earn an affiliate commission.
This article was originally published on