The Best Men's Shorts to Wear This Summer
With a pair or two of each in your closet, you'll be ready for pretty much anything.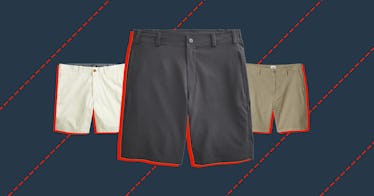 A good pair of shorts is as much a summer staple as sunburn and soft serve. But finding the best shorts for men — that is, a well-fitting pair that's comfortable, breathable, and stylish enough to wear out but won't feel off if you're just hanging in the backyard — can be tricky. What length? What material? What vibe? While the latter question is up to you, we've got some thoughts on the former.
the
4 Great Pairs of Men's Hybrid Shorts
How Should Shorts Fit?
There are a lot of opinions here. If you want to show off some thigh, we're not going to stop you. You do you. But in general, here are our thoughts. For guys of average to slightly-above-average height, it's all about inseam length. Everybody's preference is different, but shorts with an inseam length from 7 inches (a bit above the kneecap) to 9 inches (essentially at the kneecap) work quite well. Whatever the case, your shorts should be somewhat tailored to your leg, so look for "Straight," "Athletic" or "Slim" versus "Relaxed" fits.
4 Great Pairs of Men's Chino Shorts
Can You Wear Shorts to the Office?
Here's another hotly debated question in the world of menswear. Wearing shorts at the office is less dicey than it used to be, but it's still frowned upon in professions like finance. Keep this in mind: If you work in an office with a business casual dress code, there's still a right way and a wrong way to wear shorts at work. Opt for shorts in dark colors (akin to dress pants) with a tailored fit and streamlined pockets. The rest of the outfit should be simple and sharp (think: a well-fitting polo and loafers), and perhaps reserve your shorts-wearing for casual days, not big-time meetings.
This article was originally published on