The Best Men's Polo Shirts: 9 Styles For Every Type of Guy
Comfortable as your favorite t-shirt, and ready for pretty much any occasion, the best polo shirts have never been better.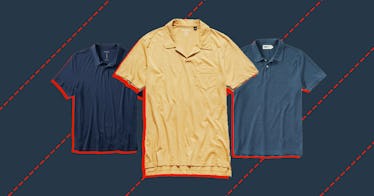 Is there a more versatile piece of clothing for men than the polo shirt? It's the Swiss Army knife is shirts. Dressier — but still as comfortable as — your favorite t-shirt, and yet still works for laid-back situations. It's easy to wear to work, and it's not as stuffy as a traditional dress shirt.
Best of all, the polo shirt has a style lineage up there with the best of 'em. First worn by sporting gentlemen, it's been turned into a cool-as-can-be look by style icons over the years. The best polo shirts today fit better and feel more comfortable than ever before. Many are also more teched up, made with just enough stretch and moisture wicking to keep you cool and comfortable all day. The eight men's polo shirts below — some traditional, some a bit more modern — are all excellent choices.
The Best Polo Shirts to Buy Now
How to Look Good in a Polo Shirt
To find your new favorite polo focus on fit and fabric. The polo should be flattering to your form, with sleeves that lightly hug — not strangle — your biceps and shoulders.
The proper polo shirt also isn't too tight through your chest and stomach. It should hit at about your belt line, so you can wear it tucked or untucked. The fabric should ideally be lightweight and breathable. This could mean it's made from cotton or cotton blends, or with performance-minded stretch fabrics (including merino wool). Older polos were typically made only from cotton pique, a stuffier fabric prone to overheat. Avoid those if you're able.
This article was originally published on