Time to Get Dressed: 4 Great Men's Suits to Wear This Season
You've (finally) got places to go and occasions to celebrate. These four modern, affordable suits are ideal for all your outings.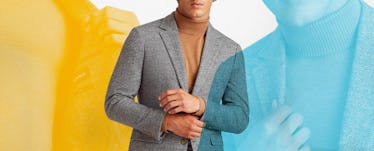 Chances are, wearing a suit hasn't exactly been a priority these past months. Zoom calls barely require pants, let alone a jacket. But now your calendar is filling up again: weddings, corporate affairs, holiday parties, date nights. They're all back on the board. Not that you need an excuse to dress up. Maybe you just want to wear a suit because you've got places to go and, after the past few years, that's as good a reason as any to look good.
In any case, now's a great time to get reacquainted with a great men's suit. The question to ask: What should you look for in a fall or winter suit? Our advice: Have some fun with it, but think modern and sharp above all else. Consider colder weather fabrics like houndstooth if you want to go all-out, but when in doubt, seasonal blends like wool, especially in crisp, versatile colors like navy, are going to give you the most bang for your buck. You might also want to spring for a suit with some stretch to it, a trend that provides some serious comfort. Oh, and keep versatility in mind: Look for a jacket that you'll wear without the pants and vise versa so the components are always in your rotation.
Theres never been a better time to find a great suit at an affordable price. So, we're focusing on styles that aren't fast-fashion cheap, but aren't ultra-luxury splurges, either. The options below are sharp, well-made suits that just so happen to be affordable. As always, we only include products that have been independently selected by Fatherly's editorial team. But if you purchase a product through a link in this article, we may receive a portion of sales.