8 Great Men's Scarves to Bundle Up With This Winter 
Because the right scarf does more than keep your neck warm.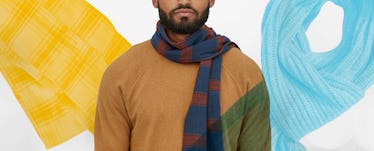 The best winter accessories sit right smack-dab at the intersection of style and functionality. Yes, first and foremost, they should keep you warm. But, where possible, they should also look at least somewhat stylish because, hey, it's winter, it's cold and it gets dark. A little bit of personality tied over your winter coat is well needed. So, much like the best gloves and beanies, the best scarves for men should defend you from the winter chill but also look good. Here then are our picks for some warm stylish scarves to seek out, from casual merino wool numbers to more luxurious cashmere. If you want to get proper with it, thinner scarves are dressier, softer, and wear well with crisp pieces like a tailored topcoat, while thick-knit wool scarves team nicely with puffer jackets, workwear coats, and casual outerwear. However you wear it, any of the below options are great choices.
As always, we only include products that have been independently selected by Fatherly's editorial team. But if you purchase a product through a link in this article, we may receive a portion of sales.
How to Tie a Scarf
Tying a scarf is kind of like tying a tie: There's more than one way, and everyone's got their preference. Switching up your tie knot is more about vanity and looks, but tying your scarf ultimately needs to accomplish one goal: Protecting your neck from winter's chill. While different fabric blends abound, to us, there's one method that works well for several types of scarves.
We call it the "loop" method, and it's simple and classic. Here's how it works. Gather the scarf and fold it in half so that its two loose ends match the same length. Position the U-shaped loop so that the loop itself sits near the front of your neck, with the rest of the scarf covering the back of your neck. Then, pass the two loose ends through the loop in front of your neck and tighten the loop, positioning according to your preference.