The Best Men's Sandals for Summer 2021
by Doug Schnitzspahn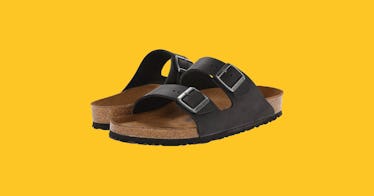 It's sandal season, at last, and summer 2021 is giving us all lots of new reasons to roam — whether that means hitting the trail or sauntering stylishly into a friend's yard. Whether you're looking for comfortable men's sandals that give you that Big Lebowski chill-out vibe or for something edgier for scoring just-down-from-Mount-Olympus style points, we've found the sandal for you. And if what you want is a sporty sandal or water shoe that's all about durability, tread, and adaptability, we've got you covered you too. But first, a public service announcement of sorts: Summer's the time to let your feet breathe, but before you let them breathe, give them the attention they need.
Celebrity groomer Marissa Machado has worked with style-conscious guys like Rami Malek and Zachary Levi. And when it comes to men and sandals, she doesn't mince words.
"I truly believe that if a man is going to show his feet, they need to be presentable," says Machado. This means, guys, go get your toes handled. "Men can go to any nail shop for a pedicure," says Machado.
If the process is not your style, she suggests a DIY method: Fill a large bowl or bucket of sorts with hot water and a pinch of epsom salt and soak for about 5 to 7 minutes. After your feet are good and soft, clip nails to the desired length. She also suggests using a cuticle pusher and clipper to clean up dead skin around the toenails. To finish, file the nails for smooth edges and you're sandal-ready.
Foot management aside, when shopping for men's sandals, the American Podiatric Medical Association recommends you opt for leather ones because they minimize blister potential. Make sure your feet fit snugly and don't hang off the edge. And don't wear open-toe sandals when walking truly long distances, because many don't offer enough shock absorption or support.
That being said, the following men's sandals can handle all of summer's fun, give your feet some breathing room, and look the part when you are just hanging out with a mojito.
All-Terrain Men's Sandals for Summer
All-Occasion Men's Sandals for Summer
Every product on Fatherly is independently selected by our editors, writers, and experts. If you click a link on our site and buy something, we may earn an affiliate commission.
This article was originally published on