The Best Men's Peacoats to Wear: 7 Options for Every Budget
The oh-so-reliable wool coat has long been a staple of stylish men. These seven modern versions keep the tradition alive.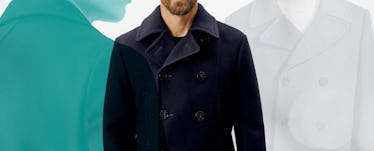 Trust is central to many of the menswear staples we love the most. Take, for instance, the peacoat. Naval officers on the high seas trusted the jacket to keep them warm in harsh conditions. The double-breasted coat, cut to hit below the hip and usually made out of thick wool, was tough, warm, and dependable as hell. It did its job and did it well. The peacoat made its way into civilian life because style-minded men rightfully appreciated these qualities, and realized that it looked damn good, too.
Today, the peacoat remains a staple. While it has seen many different iterations, the core qualities of the best men's peacoats — tough, warm, and stylish — remain the same, and it deserves a spot in your closet. Like cotton chinos or the humble white T-shirt, or the field jacket (most famously), the peacoat remains reliable as hell, and the ideal thing to reach for when you're going for a more casual cold-weather look.
Below you'll find seven examples of men's peacoats, in a range of prices. All of them will defend you from the winter's cold and provide a down-to-earth look that feels as relevant today as it did on the decks of ships. The reason is unsurprising: Utility and style just work well, no matter where you are. Trust us.
As always, we only include products that have been independently selected by Fatherly's editorial team. But if you purchase a product through a link in this article, we may receive a portion of sales.
This article was originally published on