7 Great Knit Polo Shirts To Wear Right Now
The throwback shirt is back in. Here are a few of our favorites.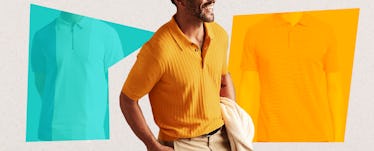 The polo shirt is a wardrobe staple for a reason. It's classic and versatile, and the ideal piece of clothing to wear on those warm days when you need to toe the line between formal and free-wheeling. You can never have too many good polo shirts in your closet. Pocket. No pocket. Colorful. Plain. But among the classic options in your closet should be a few good knit polos. Why? The knit polo is the cousin of the standard piqué cotton polo and a beloved old-school staple that just so happens to be making a comeback. The best knit polo shirts deserve a place in your rotation.
Now, you're probably most familiar with the knit polo because of Don Draper, Tony Soprano and co, or maybe a certain talented Mr. Ripley. And yeah, depending on what you go with, the shirt can have a classy, back-in-the-day charm to it as well as an old-man-at-the-racetrack vibe. Honestly, both are pretty in right now. Regardless, the real appeal of the shirt is its subtle, stylish distinctions. It's often more obviously textured than your standard polo and usually has the more relaxed look and feel of a lightweight cotton sweater. It hugs the body, and might sometimes even ditch the classic button placket in favor of an open collar. It's available in a variety of textures and throwback-appropriate colors and bold stripes. It's also a bit more fortified and slightly warmer, which makes it ideal for those blustery spring days.
Here are a few great knit polos, including both subtle and more in-your-face options. All are worthy additions to your spring and summer wardrobe.