The Best Jeans and T-Shirts Combos For Men
Basic, comfortable, and ready for pretty much anything, jeans and a t-shirt is a classic combination. Here's how to perfect the pairing — and some suggestions on what to buy.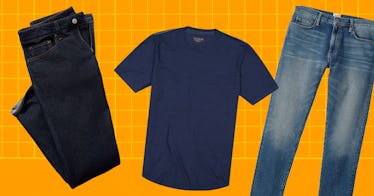 At the end of it all, you'll probably have spent more time in jeans and t-shirt a than in any other outfit. So, do you want to have spent life looking like a cozy bum? Or someone cool — equally comfortable in their own skin and outfit? That wasn't really a question.
Let's get this out of the way: Yes, jeans and a t-shirt are staples. Yes, you can get them everywhere and most pairs are pretty damn forgiving. But if you're like so many men and this is your outfit of outfits — more care is in order. Young Springsteen pulled off the casual-cool look of a tee and ripped jeans because he took the time to know what worked for him. Also, he had that ass and he knew it.
There are two things and two things alone that matter when it comes to the jean and t-shirt outfit: Fit and fabric. How a t-shirt should look on your frame changes everything. The right jeans fabric and tailoring makes a major difference. It's all about sticking to a few principles, finding what works best for you, and what combos suit your style — the look is yours to own. To offer some assistance, here are some tips for finding the best t-shirt and jeans for men, how to style them together, as well as, the best jeans and t-shirt combinations to try.
The Best Jean and T-Shirt Combinations for Men
For the Weekend
The Jeans: Buck Mason Ford Standard Jeans ($145)
The T-shirt: Bombas Pima Cotton Pocket Crew Neck T-shirt ($36)
There might not be a more weekend-friendly combination than the t-shirt and jeans. Buck Mason's Ford Standard Jeans offer an agreeable fit that's tailored but not too tight. In fact, the tapered fit and mid-rise are just about perfect for most body types. The medium wash is casual and gives the jeans an easy going quality.
The Bombas Pima Cotton Pocket Crew Neck is an ideal companion. The chest pocket makes it more interesting than a standard T-shirt, while the Pima cotton (a high-quality cotton fiber) feels as comfortable as can be on your skin. Try a classic color like grey or white or go with a striped option for a few extra style points.
We Also Like:
Flint and Tinder All-American Stretch Denim ($138)
Alex Mill Standard Pocket Tee in Slub Cotton ($48)
How a T-Shirt Should Fit
Style icons from McQueen to Springsteen made the t-shirt and jeans their own. Why is that? They nailed the fit. When it comes to a t-shirt, it's all about fit. The right t-shirt should hug your shoulders and arms without being too tight or too baggy, and the sleeves should hit about mid-bicep. Length-wise, your tee should hit at about your belt line. Pay attention to these basics and you'll elevate the ordinary piece of apparel.
For Around the House
The Jeans: Madewell Straight Leg Authentic Flex Selvedge Jeans ($80)
The T-shirt: Everlane Organic Cotton Crew ($7)
When you've got a schedule that's free and clear, the choice of what to wear around the house should be the last thing on your mind. That's where this Everlane t-shirt comes into play. With a soft organic and reliable fit (again, think nicely fitted, not baggy) , it's a no-fuss, no-frills t-shirt you can reach for time and again.
Your denim should also fit that same approach: Think relaxed and ready for lounging, but able to dash out to the store for a beer or diaper run at a moment's notice. That's why we're going with Madewell here. Don't be intimidated by the use of selvedge fabric, because it's made to fit comfortably and stretch with you. The straight-leg cut is easygoing and dependable. These are far from your typical dad jeans, to say the least.
We Also Like:
34 Heritage Courage Straight-Leg Jeans ($136)
American Giant Classic Cotton Crew Tee ($25)
How a Jean Should Fit
Finding a pair of the best-fitting jeans is all about your body type. If you've got larger legs, you should reach for a pair with a straight-leg cut or a tapered cut (which provides more room through the thigh with a slightly narrower leg opening). If your legs are on the trimer side, look for a slim fit. Ideally, avoid a pair that's rockstar-skinny. Generally, look for a mid-rise cut jeans for men and make sure you find the proper waist and inseam size.
When you put them on, they shouldn't cut off your circulation at the waist (see if you can fit your thumb between the jeans and your waist). The inseam length is a matter of personal preference, but for a cleaner look, consider jeans that hit slightly above the point where your foot meets your leg. That way, the jeans rest atop your shoes without bagging or pooling.
For Work
The Jeans: Bonobos All-Season Jeans in Dark Rinse ($99)
The "T-shirt": Todd Snyder Slub Jersey Montauk Polo ($34)
Yes, you can wear jeans to work: It just has to be done the right way. In this case, that means finding a tailored pair of jeans in a dark wash which makes them similar to dress pants but far more comfortable. The Bonobos All-Season Jeans are made from soft stretch denim that holds its shape and yet allows you to move around the office and sit comfortably. Plus, Bonobos offers three fits and waist sizes from 28" to 40".
For work, the standard t-shirt is swapped out for a polo, but the kicker here is that the Todd Snyder Slub Jersey Montauk Polo is every bit as comfortable as a trusted tee. It even fits pretty similarly, with a tailored fit through the body and sleeves that should hit about mid-bicep. And this isn't the heavy cotton polo of your youth; the slub fabric is breezy and comfortable. The Olive color in particular makes for an interesting color pairing alongside dark blue jeans, too. Taken all together, this combo makes for an office outfit that's comfortable and cool, not boring and stuffy.
We Also Like:
Mavi Jake Dark Navy Twill Jeans
What to Look for in a Great T-shirt
When we think about the best T-shirts, we think of the classics. The crisp white tee, the classic black tee, perhaps a navy T-shirt all come to mind. Look for clean colors and relatively minimal branding. Stripes or a neat graphic are fine, but athletic logos aren't suited for a night out or the office. The proper T-shirt, especially in a dark color and premium fabric, can convey casual, cool style all at once. And a T-shirt that's fitted, not baggy, helps you look trimmer.
Fabric-wise, options are plentiful. Your T-shirt shouldn't be the sort you'd commonly find in your gym bag, but cotton or cotton blends offer breathability and allow you to wear the shirt solo or layered up. Some T-shirts are made with thicker cotton or sustainable materials such as organic cotton. That's fine too. Merino wool fabric is a material more commonly found in T-shirts these days, which is great since it wicks away moisture and resists odor and bacteria. A merino wool tee could be a solid bet if you want a durable tee that can stand up to the demands of a long day.
For a Night Out
The Jeans: Mott and Bow Slim Jay Jeans in Black ($118)
The T-shirt: Goodlife Overdyed Triblend Crewneck T-shirt ($60)
Yes, you can dress up a t-shirt and jeans for a night out — again, it's all about fit. The Slim Jay Jeans in black are a reliable fit from Mott and Bow that should prove neither too tight nor too baggy. Black jeans are a great call here, as they're sleek and sharp for a dressed up evening. Mott and Bow uses a blend of cotton and elastane for a lightweight pair of jeans made to move with you, another bonus for getting from point A to point B.
The soft, blended fabric means this Goodlife t-shirt is going to feel great to wear. The scalloped hem is a cool design touch that turns this tee into one you can wear on its own (aka it won't look like you're wearing an undershirt out of the house) To sharpen it up in a simple, fresh way, add a classic denim or a black leather jacket.
We Also Like:
Crew 484 Slim-Fit Stretch Jeans in Black