The Best Dandruff Shampoos for Men to Get Rid of Nasty Flakes
Beat that scalp itch with these products.
by Hudson Lindenberger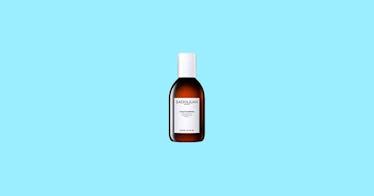 Dandruff flakes are the follicular equivalent of murky yellow sweat stains: not something you ever want to showcase. Dandruff is the product an itchy, dry scalp condition marked by flaky skin and irritation that can leave you coated in unsightly white flecks, and it's far more common in guys, possibly due to male hormones. Sounds grim, but the good news is that investing in the best dandruff shampoos for men can completely take care of this issue, making your hair glossy and your shoulders flake-free.
Effective dandruff shampoos work by addressing the causes of the condition. Per the Mayo Clinic, the four most common causes of dandruff are seborrheic dermatitis, otherwise known as irritated, oily skin, straight up dirty hair or dry skin, or a lovely fungus called Malassezia.
Not all dandruff shampoos are created equal, so it's important to read the ingredients. The best dandruff shampoo strikes the right balance between attacking the problem while soothing and avoiding irritation. If your scalp shows any signs of redness or burning, stop washing your hair with the product in question. If you can't find an over-the-counter shampoo that works, there are prescription options a dermatologist can describe.
Common ingredients in dandruff shampoos:
Pyrithione zinc shampoos can help eliminate the fungus on your scalp that can cause dandruff and seborrheic dermatitis.
Tar-based shampoos help conditions such as dandruff, seborrheic dermatitis and psoriasis by slowing down how quickly skin cells on your scalp flake off.
Salicylic acid shampoos can help get rid of scaliness, but may dry out your scalp.
Selenium sulfide shampoos slow your skin cells from dying and may also combat malassezia.
Ketoconazole shampoos are made with an antifungal agent that may work when other shampoos fail.
Every product on Fatherly is independently selected by our editors, writers, and experts. If you click a link on our site and buy something, we may earn an affiliate commission.
This article was originally published on