The Best Clothing Deals at Entireworld's Going out of Business Sale
One of our favorite stores — with possibly the world's best sweatpants — is going out of business. Shed a tear, and pick up a deal.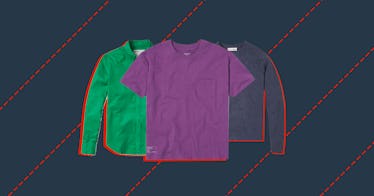 The entire world is ending. Or rather, Entireworld is ending. The much-loved, minimal fashion brand founded by Scott Sternberg (once the founder of trend-setting, taste making menswear company Band Of Outsiders). As of yesterday, Entireworld is closing up shop, following a run dating back to 2018. Everything must go, which means markdowns aplenty. Translation: If you're in the market for sweaters, sweatpants, button-ups, or any other elevated basics, now is a great time to shop the cult favorite brand.
Entireworld specializes in the most comfortable sweats and T-shirts you've probably ever tried on, plus trousers, outerwear and more. The brand emphasizes quality fabrics, simple colors and designs, and straightforward styling potential. Entireworld was a particular hit during the early part of the pandemic, as office workers traded in chinos for sweatpants and generally prioritized an at-home uniform that leaned much more casual (guilty as charged)
Sales actually shot through the roof in March 2020, at a clip more than 60 percent higher than the previous March. But Entireworld, according to Sternberg, was unable to come to an agreement on an acquisition in recent weeks, and as they say, that's just how the cookie crumbles. There's good news, though: Plenty of the best basics are available right now through a final sale offering at Entireworld, set to run for the next couple of weeks. Don't hesitate, though, as the clothing won't last. Here are a few categories not to be missed.
The Best On-Sale Menswear to Buy Right Now at Entireworld