6 Great Blazers For Men to Wear This Fall
A great blazer is a wardrobe essential. These six versatile picks work for pretty much any occasion.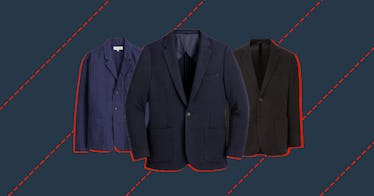 Formal date nights. Returns to the office. There are moments in life when you'll be happy you have a great blazer in your closet. And if you're looking to upgrade, now's the time. The best men's blazers today are modern and fresh. Think classic colors, a variety of fabric blends (from cotton to lightweight wool), a trim-but-not-tight fit and the ability to be worn with dark denim as easily as stretch chinos. The right blazer isn't stuffy or stiff: It's versatile and easy to wear.
A blazer is a happy medium between a full suit and a sport coat. A sport coat is less formal than a blazer. It's made in bolder patterns than a blazer or a suit and uses more rugged or textured fabric (they were traditionally worn for field activities by sporting gentlemen, after all). Some sport coats even have notched collars or reinforced elbow patches. A blazer, on the other hand, traditionally comes in solid colors in fabrics like cotton or wool blends. Think of it like an easier way to clean up your act for business casual situations, classy date nights and seasonal dinner parties, preferably with leather dress shoes or dress boots. Terminology aside, a blazer is going to be more endlessly useful for work or play. Here are six men's blazers we love right now.