9 Best Beard Trimmers
Looking for a beard trimmer? These electric beard trimmers are the best.
by Donna Freydkin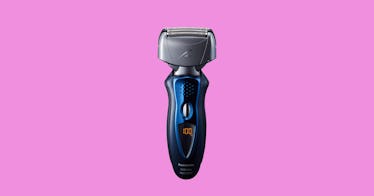 Beards are having a moment. Celebrities like NBA star James Harden and bestubbled designer Tom Ford are setting examples with well-kempt facial hair, the product of some personal effort and a quality beard trimmer. Pick a good one and you can easily sculpt, shape, and shave your beard, mustache, sideburns, or some combination of the three, all in the comfort of your own home.
"You definitely want one to help you hedge the shrub. But sometimes it's best to go to a barber and let them do it and then you just follow it. You want the trimmer and clipper to help you keep your lines nice and clear," says Genevieve Bochanty, the director of brand experience at the Art of Shaving. "You should follow the lines and it depends on the shape of your face. It's an art."
RELATED: Best Beard Oils to Soothe and Soften Your Beard
But no matter the kind of artist you want to be, you'll need a good paintbrush. Look for a beard trimmer that does the basics well. It should be cordless or equipped by a battery that lasts for least and hour. Its blades should be made of a strong, high-quality material and sharpen themselves, and you should be able to easily swap out combs and heads, as different parts of your face and different beard styles require different tools. Bonus points awarded for a trimmer that can handle some manscaping you might need to take care of.
Other nice features include wet/dry flexibility so you can take it into the shower with you if you desire and parts you can easily wash in the sink. There are even few that have vacuums that suck up your loose hairs, but their performance is spotty at best. Here are nine trimmers that fulfill the criteria above, and are highly rated by guys who depend on them.
Pros: This beard trimmer has 18 different attachments that tackle everything from nose hair to trimming your more sensitive spots. You can keep your beard stubble length or let it have a bit more body if you so desire. The battery will run for five hours on a single charge and it comes with it's own storage bag.
Cons: There's not an adjustable length slider so if you want to trim your beard to different lengths, you will have to swap out guides.
Pros: Under the hood, the NiMH battery has up to an hour of runtime and stainless steel blades that you can remove for easy cleaning. It also comes with scissors in case you need to snip any strays.
Cons: The blades might be easy to clean, but they aren't self-sharpening. Some users complained that they weren't sharp enough, so if you have a particularly thick beard it might be advisable to find another model.
Pros: There is a detail beard trimmer and shaver for precise work, with three different beard combs, an adjustable slider that has eight different settings, and a nose and ear trimmer. All of the attachments can be washed under a faucet, and it all packs up in a handy travel case.
Cons: The battery has the smallest capacity of all the shavers listed here, so it can run out mid shave if you forget to charge it.
Pros: Its self-sharpening steel blades will never lose their edge. This beard trimmer is housed in a sturdy metal case with a comfortable grip and you can easily adjust trimmer length with the button on the back. It can be used as a body hair trimmer or a hair clipper too. The battery charge timer in the grip means you always know how much time is left.
Cons: The storage stand is nice for home, but the travel bag it comes with does not have enough room for all the attachments you might need on the road.
Pros: Braun's unique design means you can get 13 length settings with just four combs, so it's a lot easier to switch between settings quickly.
Cons: It's a small complaint, but we prefer razors with charging stands that are easier to use than plugs that you have to insert directly into the body of the trimmer.
Pros: This beard trimmer comes with four different attachment heads that let you get as detailed as you want. Its battery can take both 110v and 220v currents, so it's simple to use domestically and internationally. The 12 included attachment guides let you choose from a variety of lengths.
Cons: With no attachments over one inch, it's not good for guys with longer beards.
Pros: There are 13 different attachments to sculpt with in this beard trimmer, along with a nose hair trimmer too. Its self-sharpening blades means it is always ready for action and each of the detachable heads are solidly built. It should last for years. It also comes with a nice storage bag so perfect for travel.
Cons: It's pretty lightweight so it's easy to make mistakes when using it.
Pros: There's a dial near the middle of the trimmer that makes it easy to adjust between 19 different settings without fumbling around for the right trimmer attachment. The blades themselves are stainless steel, hypoallergenic, and self-sharpening.
Cons: The charger is a stand so there's no way to use this trimmer corded if the battery is dead. You simply have to wait for it to charge, which isn't ideal if you need a trim pronto.
Pros: You get everything in one very handsome package. The Lawn Mower trimmer features the brand's SkinSafe technology for a snag-free, smooth trim; it's quiet and has a snap-in replacement blade module plus two adjustable combs. The blades are easy to swap out, and it's waterproof so you can use it in the shower.
Cons: It's a lot of trimming gear, but we're totally sold on the undercarriage deodorant.
Every product on Fatherly is independently selected by our editors, writers, and experts. If you click a link on our site and buy something, we may earn an affiliate commission.