The Best Beard Oils to Soothe and Soften Your Scruff
These beard oils will keep your facial hair soft and supple.
by Lexi Dwyer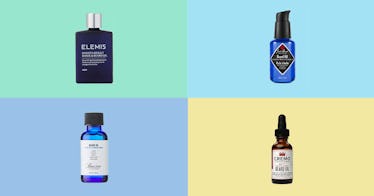 Comparing every great beard you see on Instagram to your own facial thicket is a fool's errand—unless you add a great beard oil to match. Long gone are the days of Grizzly Adams and unkempt playoff beards; modern man can rock his choice of whiskers at work and around town provided they're well-kept, and in order to sculpt an lust-worthy face-sweater, the secret ingredient is beard oils. These concoctions, meant to mimic your natural facial oils, soothe regrowth itch, tamp down flyaways, add a healthy luster and pleasing scent, and even fight beardruff. (Yes, it's a thing.) The best beard oils also make facial hair feel soft and silky — something both your kids and partner will appreciate.
But before you start oiling up, remember these three tips:
Begin with a patch test. Beard oils consist mostly of a skin-friendly carrier oil (like jojoba, sweet almond or argan) with the addition of varying concentrations of essential oils (such as peppermint, sandalwood, or eucalyptus,). Before you rub a new one all over your face, check to see how your skin reacts by applying a small amount in an inconspicuous spot, like the inside of your elbow.
Use it post shower. Your skin will be clean and damp, which makes it the perfect canvas for absorbing the product's moisturizing goodness.
Work it through well. Start with just a few drops to avoid a greasy look because you can always add more. Make sure to moisturize both the roots and your beard fully; if you've got a lot of hair, it may help to comb out your beard first, so the product can be applied more easily.
Every product on Fatherly is independently selected by our editors, writers, and experts. If you click a link on our site and buy something, we may earn an affiliate commission.
This article was originally published on