How To Look Good At Every Beard Stage
Nail your look at any beard length.
by Dan Michel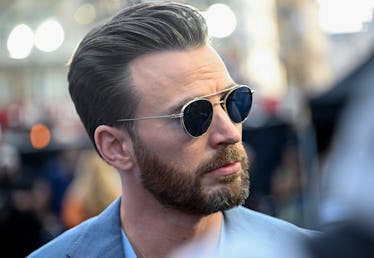 Gareth Cattermole / Getty Images
We may receive a portion of sales if you purchase a product through a link in this article.
A beard can totally change your appearance. That's for better or worse, folks. And growing one can be a bit of a roller coaster. It usually starts off fun. You stop shaving for two days and suddenly have this cool, rakish scruff that says you're too cool to shave. But if you go a few weeks without the proper maintenance, things can take a turn. That cool beard can transform into a patchy mess or even a dreaded neck beard.
"Facial hair is one of the most important accessories guys can have," says Rob McMillen, a celebrity barber and co-founder of Mildred New York, a barber shop in New York's Lower East Side. He's seen every style of beard — good and bad — and says a guy's best friends when growing a beard are patience and restraint. "The biggest mistake guys make is overgrooming," he says. "Let your beard grow instead of trying to push lines up or down. It always looks bad."
And that's just the start. Here are all the care tips any guy needs to look great at every stage of beard growth, from stubble to a lumberjack beard.
Stubble
This is the easy part. All you really have to do is stop shaving. "Don't mess with it too much in the early stages," says celebrity stylist Scott McMahan. "There's a big chance that you can trim too much, and then you'll have to start all over."
Another tip from McMahan: Exfoliate regularly in the early stages. "Use a cleanser with salicylic acid, which will chemically exfoliate away dead skin and excess oil to prevent ingrown hairs," he says.
Care instructions are pretty simple: Once a week, or as needed, use a trimmer (McMillen recommends products from Wahl and Andis' Slimline line) around the perimeter of your stubble on a low setting. Start around 5 millimeters and work your way down. Go with the grain to avoid unwanted trimming while cleaning up the edges.
Short Beard
Anything longer than a half-inch and you're in proper beard territory. If you want to keep growing, the advice is similar: Be patient. "Use a boar bristle brush to keep hair neat, relieve itching, and exfoliate your skin," says McMahan. It'll be even more useful the longer your beard gets.
At this stage, add a beard wash to your shower routine. Regular shampoo works too, says McMahan. "If you have thick, coarse hair, using a conditioner can help soften it as well," he says.
If this is where you like your beard best, simply clean it up once or twice a week as needed. Start with a lower setting (around 5 millimeters) and lightly trim around the perimeter of your beard, creating a tapered look — no hard lines that are difficult to maintain.
Then once a week, trim the body by brushing out your beard and putting a long guard on your trimmer. Work your way down until it just starts to take off the tips of your whiskers. That will be your go-to setting. Be sure to trim in the same direction your hair grows to avoid taking off large chunks of hair.
Long Beard
The longer the beard, the more maintenance it requires. For beards up to about 3 inches in length, continue to use your trimmer. Any longer, and you'll want to brush out and use scissors to carefully trim any stragglers or flyaways, which can make your beard look scraggly.
At this length, you can add beard oil to help nourish your beard, says McMahan. Start with two to four drops, and add more as needed. Be sure to work it into your beard and all the way down to the skin.
Grizzly
If you're wholly going for it with your beard, it will likely take a year or more. And all of the care instructions still apply: Wash your beard regularly. Add conditioner if desired. And follow up with beard oil to nourish.
With longer beards, you may also want to use a styling product, such as Cremo Beard Balm or Murray's Pomade, to control the shape. Start by working a dime-sized amount of product into your hands and then thoroughly applying to your beard. Then brush it while shaping with your hands.
When it comes to trimming and shaping, some are brave enough to try taming an extra-long beard themselves with a brush and scissors. But the safest option would be to find a barber who knows what you want. Be sure to bring any images of the look you're trying to achieve for a foolproof beard-growing experience.
Bear Products To Help You From Stage To Stage