Bar Soaps Are Back, Baby
This is not your grandfather's bar of soap.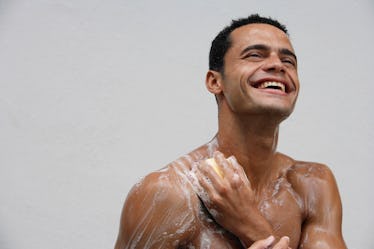 Asia Images / Getty Images
We may receive a portion of sales if you purchase a product through a link in this article.
Long gone are the days when we dismissed bar soap and considered it a relic of our fathers' and grandfathers' times. Lately, bar soap has made a quiet comeback, with improved ingredients, better smells, and that same big benefit they always had — longevity. Bar soaps last and last, unlike the often thin body washes that just go down the drain and send you out shopping again.
Today's bar soaps, unlike the no-name bars of the past, are created more intentionally and avoid harsh ingredients (such as triclosan and sodium lauryl sulfate). Modern soap bars are formulated to address specific skin concerns like eczema and "backne." Old-school soap was prone to leave skin dry and irritated, while the soap of today is packed with moisturizing ingredients to help keep skin hydrated. They don't just cleanse the body; they help to improve the skin and prepare you to face the elements. Here are the seven game-changing bar soaps that will take your shower experience to the next level.
Formulated with oatmeal, activated charcoal, and tea tree oil, this bar soap is designed to exfoliate and deeply cleanse the skin. It removes dead skin cells, unclogs pores, and treats irritated and dry skin.
Famous for its organic and fair trade ingredients, the multi-use soap bar comes in a multitude of scents and offers an effective (yet gentle) cleanse for the body. Free of synthetic preservatives, detergents, and foaming agents, it is great for those seeking a natural and conscious option.
This is an invigorating bar soap that contains jojoba meal and crushed olive seed to provide deep body exfoliation. The hydrating formula helps to prevent dryness and skin irritation. It leaves your skin feeling smoother and looking healthier.
This Dermatologist recommended bar soap is mild and non-irritating, making it perfect for men with sensitive skin and concerns such as eczema. It cleanses without leaving the skin stripped of natural oils and moisture.
This bar soap comes in a variety of scents and comes in a hefty size. These soaps are made for men who want to cleanse while improving the condition of their skin. It's crafted with steel-cut grains that gently buff away dry skin cells. It offers a balance of cleansing and hydration.
Formulated to treat concerns like body acne, this bar soap contains ingredients like green tea extract and willow bark extract. These provide soothing and clarifying benefits. It gently exfoliates and deep cleanses as it helps to battle body acne issues.
This moisturizing body bar is infused with an invigorating bourbon and oak scent. The formula contains a creamy mix of shea butter and olive oil that leaves the skin quenched and hydrated. This is a great option for men with dry skin and itchy concerns.