Simplify Your Holiday Toy Shopping With These Editors' Picks From Walmart
Get the kids on your list the toys they want in a single trip.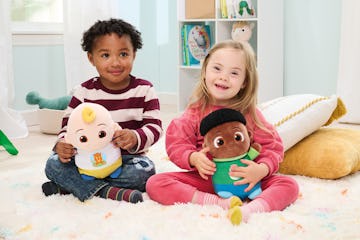 The weather may be cooling, but the holiday season is coming in hot. If you're a parent, that means one thing: You're about to be Busy with a capital B planning every class party, warming every cup of cocoa, orchestrating every perfectly placed twinkling light, and buying every single gift.
Making holiday magic is a full-time gig — but nobody seems to give parents the winter off to get it all done! That's why our editors have gathered a list of 11 top toy picks that are sure to brighten your kids' holiday season.
The best part? You can grab them all in one place — Walmart. Walmart has all the top toys your kids can't wait to unwrap at the low prices you need to stay on top of your holiday budget.
Was there any question this would make the list? It's the "Year of the Barbie Movie," after all. The entire world is obsessed with the blonde-haired, roller-blading heroine and her boyfriend who is totally "Kenough." A Barbie Dreamhouse has been a must-have holiday gift since the first one rolled off the line, and 2023 is the perfect year to make it happen for your Barbie-loving babe.
If your kid isn't pining for a Barbie Dreamhouse, the Hot Wheels City Ultimate Garage might just be on their list. It's ginormous. There's a DRAGON. It's just cool on top of cool, and your future mechanic or race car driver is sure to find hours of fun parking fifty of their favorite Hot Wheels cars in this garage that's earned the title of ULTIMATE.
Your kids love Bluey, Bingo, Bandit, and Chilli Heeler — and, let's face it: so do you. What could be cuter than seeing your little one chat with their favorite Aussie pup? 13-inch Talking Bluey is the epitome of adorable, and every preschooler would be delighted to find her in their holiday haul.
It's a BUMPER CAR. Need we say more? Grab one per kid and turn them loose. Why not make the most of all that preschool energy and direct it into the most unexpected parent-approved activity ever?
Ask any tween: The '90s are totally in right now. The furry pals that took Christmas by storm when we were kids are back and cuter than ever. Their funky colors and big eyes are ADORBS, and they are a holiday must-have for the preteen in your life.
Let's face it: Kids love bathroom humor. What's more hilarious than a monkey flinging banana-scented poo? Playing a game that lets YOU be that monkey. The silliness is definitely hilarious, and with a 25 to 30-minute gameplay time, you can fit in a quick game any time you want!
If your kids are anything like mine, their Squishmallows collection will never, ever be complete. This ultra-squeezable medium-sized Cocomelon HugMees plush is will be a beloved addition to your kiddo's Squishmallows Squad and is the perfect snuggle buddy for bedtime.
LEGO is always a hit, and if your kids are anything like mine, they love a multifunctional toy. With this 3-in-1 birdhouse set, your kid can build a birdhouse with a roof that flips open, a park bench for a hedgehog and squirrel to hang out on, or a beehive with bees to buzz around it. It's the perfect set for any young nature lover.
If you've got a preschooler who loves fixing things around the house, the VTech Drill & Learn Workbench will be a massive hit. The fun starts immediately with the very first DIY project being the assembly of the workbench, which you can do using the included power tools. Once assembled, your weekend warrior can invent endless projects with their new drill press, sander, and circular saw.
RC meets TMNT? Cowabunga, dude! Collect all four "turtley awesome" ninjas and the whole fam can use remote controls to "speed, shift, and shred on any surface."
Did we say it's the year of the Barbie movie? Well, your aspiring mermaid might beg to differ. 2023 is the year that we saw Ariel, Prince Eric, Flounder, Scuttle and Sebastian come to life! Your child can become part of Ariel's world with this beautiful dress, inspired by Hallie Bailey's character in the blockbuster 2023 live-action remake of your childhood favorite.
Holiday toy shopping can be a lot of work. Whether you've found the perfect gift on this list or you want to shop more toys on walmart.com, Walmart's selection of all the season's top toys can help you focus on continuing the traditions that matter most to you.