Zack Snyder Knows Why Parents Would Stop a Real Zombie Apocalypse
"Society won't fall apart because there's a lot of parents around."
by Donna Freydkin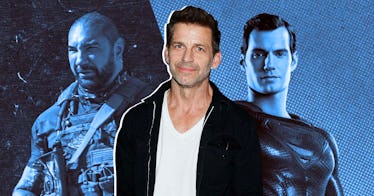 Getty / Warner Bros / Netflix
Like any seasoned parent who's dealt with blowouts and tantrums, Zack Snyder remains nonplussed and even-keeled when faced with a crisis. Shit happens. You deal with it and figure it out. And you move on. Snyder crisply breaks down the issue at hand: "We had to replace this actor. How do we do it? Is it possible? And I was like, 'Yeah, I think it's possible.'"
To recap: Snyder co-wrote and directed Army of the Dead, a heist movie, of sorts, centered around a group of mercenaries who plan to steal $200 million from a vault after zombies take over Las Vegas. Think Ocean's Eleven going on a bender with World War Z. As usual, he obsessively focused on the tone of the film, which streams on Netflix starting today, making sure it was entertaining as hell without ever bordering on the absurd or the nonsensical.
"One of the things I always say is that it has fun, but it doesn't, in the end, make fun. It will push the genre and the tropes and the things you understand to be within the confines of a zombie and or heist film to their ragged edges, the edge of parody, or even farce. But I really want to always just drag you back into the heart of the movie. So I'm always trying to catch you off guard," he tells Fatherly.
But this being a Snyder movie, nothing went according to plan. After filming had wrapped, one of his actors, Chris D'Elia, faced sexual misconduct allegations and Snyder cut him from the movie. But Snyder being Snyder, he decided to — replace him. With Tig Notaro, a master of deadpan comedy whose action movie credentials, prior to this, begin and end with her role as Jett Reno on Star Trek: Discovery.
Snyder and his producers had first thrown around some names. None quite fit. "Tig came to mind. How do we move forward with this idea? I said, 'Let's just show her the movie, let her read the script.' So she read the script, she watched the movie and then she called me and we talked on the phone. And she was like, 'It's cool because I like the movie already.' It's rare that you get to see a movie that you're in, because normally that's a leap of faith, right? I explained to her that the reshoot process would be really COVID-friendly because we would protect her. It would only be she and I because I was operating the camera," he says.
He had to pivot to make things work, no small feat for a filmmaker with a very clear vision for everything he sets out to do. "The thesis for the film was, I want it really organic. Incredibly textural, low-budget, hand-held. Available light whenever necessary. Let's keep it real," he says. "Cut to: Tig and I, giant soundstage, massive green screen. All the lights in the world. Computer motion control. To make her look like she was with us when I shot it. She had a lot of patience. She was incredibly kind to me and indulged me and was funny in the middle of that. Are you kidding me?"
It's a good thing that Snyder swears he'd shoot movies for free. Because damn, in this case, he essentially filmed the same movie twice, and did so with rabid attention to detail, including one moment that takes place at an airport: "If you look, Scott and Cruise are reflected in (Tig's) sunglasses. But they weren't there when we shot it."
To hear Snyder tell it, reshooting entire scenes on green screen was about as complicated as school drop-off. In fact, being a parent — Snyder is a father of eight — keeps his head on straight and helps him prioritize what matters.
"People always ask me, if there was a real apocalypse and society fell apart, what would you do, and my hope is that society won't fall apart because there's a lot of parents around. I think parents by proxy have cooler heads. You know what's at stake," he says.
And sometimes, you get sucker-punched. When his daughter Autumn committed suicide in 2017 after a long battle with depression, Snyder was in the midst of filming Justice League; he left production to be with his grieving family. After intense pressure, both from fans, and support from stars including Ben Affleck and Gal Gadot, Zack Snyder's Justice League was released on HBO Max on March 18. He dedicated his four-hour cut of the film to his daughter. Being a father means everything to him.
"Before you have kids, your priorities are different. My children are really important to me. The unit. They can tear your heart out, they know how to do that. You grow more sensitive when you have kids, which is good for everybody," he says.
It's one reason Snyder doesn't mind being the standard-bearer for dad films. Actually, he relishes it, enthusiastically explaining just how his movies — often bombastic, but thoroughly captivating — have that unique dad appeal.
"I guess I'm ticking all the dad boxes. The first thing, where I would have collected my dads or moms or parents — was that I made a couple of movies, I guess all my movies, in a way. Dawn of the Dead: Nostalgic. 300: That's a dad movie. That's one of my dad's favorite movies. Dads, again," he says. "Watchmen, dads. You've got a bunch of dads. Dorks, too — which I am happy to say I like to bring into my huggy fold. Superman — it happens again. If you're a comic book guy, you're safe with me. Batman, he's a wide net. Justice League is a family movie in the end, the bringing together of family."
Ask any actor or filmmaker that's part of the Marvel or DC universe if their kids think they're cool, and the answer is a universal negative. The same goes for Snyder, although given his list of credits, it's a bit hard to swallow.
"No. I promise you. Let's see. Olivia, so my oldest daughter, she's getting her doctorate in psychology right now. We're buddies. She might say I was cool, but I don't know a hundred percent," he says. "Willow would definitely say I was a nerd. If I say something, she'll say, 'Aww, dad joke.' And then Eli, he goes to AFI. Ezekiel and Jett live on the east coast right now. Ezekiel probably thinks I'm okay. My son Jett is studying marine biology in Florida. My two little teeny ones, they don't get it. They don't understand."
Seemingly, though, Snyder's youngest boys do understand the way to their dad's heart.
"These guys, I will say, they do good Father's Day gifts. I'll be getting some cool stuff. No ties. They're thoughtful. You got me a bowie knife? That's genius," he says.
Army of the Dead is streaming on Netflix right now.