Your Kid's Bookshelf Needs These 2015 Caldecott Winning Books
A round up of the 2015 Caldecott Winners, including 'The Adventures Of Beekle,' 'Sam And Dave Dig A Hole,' 'Nana In The City' and more.
by Fatherly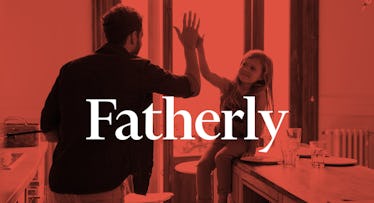 The American Library Association just announced the 2015 winner of the Randolph Caldecott medal for "the most distinguished American picture book for children," as well as 6 honorable mentions. Considering that book publisher Scholastic recently released a report warning that recreational reading is tanking among kids age 6-11, now might be a good time to invest in some new additions to your kid's library. After all, a love of reading is one of the easiest things you can pass down to your kids — and, if you don't actually love reading, maybe it's because no one ever got you awesome award-winning books like these.
Randolph Caldecott Winner
The Adventures of Beekle: The Unimaginary Friend by Dan Santat ($10)
Ages: 3-6
Beekle, who looks like a something that dripped off the Stay-Puft Marshmallow Man, comes from a land where imaginary friends hang out until they're discovered by little kids. When no one discovers Beekle, he decides to do the discovering himself. The book introduces ideas about friendship, imagination and exploring the world, and garnered plenty of praise beyond just the ALA — PBS, The Huffington Post and the Chicago Public Library all named it "Picture Book Of The Year."
Honorable Mentions
Nana in the City by Lauren Castillo ($12)
Ages: 4-8
Nana buys a sweet new apartment in the city because Nana will be damned if she's going to rot away in the burbs with the boring-ass mahjong ladies. The only problem is Nana's grandson is terrified of the big, loud, crazy, hobo-inhabited city – until Nana crochets him a red cape that gives him a magic superpower: Guts. The book is a visual love letter to New York City, and a celebration of kid/grandparent relationships.
The Noisy Paint Box: The Colors and Sounds of Kandinsky's Abstract Art by Barb Rosenstock and Mary GrandPré ($11)
Ages: 4-8
A vividly illustrated telling of Vasily Kandinsky's life, The Noisy Paint Box explores the pioneering abstract artist's synesthesia — a condition that leads those who have it to "hear" colors (among other things). The book will give your kid an appreciation for art and the weird quirks that their brains are capable of. Or, you know, you could just explain synesthesia to them by reading this.
Sam & Dave Dig a Hole by Mac Barnett and Jon Klassen ($11)
Ages: 4-8
Sam and Dave dig a hole and … that's pretty much it. But the book is captivating because the illustrator's perspective reveals so much more than Sam and Dave realize, and because of the creeping weirdness that remains unresolved. This makes for a great creative exercise for your kids, who have to draw their own conclusions beyond "things get weird when you dig a really big hole."
Viva Frida by Yuyi Morales ($16)
Ages: 4-8
Another ode to a famous artist, Viva Frida is primarily a picture book, which tells the story of Frida Kahlo with simple captions of lusciously illustrated pages that combine photography, painting and digital effects. Bonus point for bilingual copy, which will teach your kid some basic Spanish (although it doesn't include "bigote" anywhere, so you'll have to explain Kahlo's mustache to them yourself).
The Right Word: Roget and His Thesaurus by Jen Bryant and Melissa Sweet ($14)
Ages: 5-9
Yet another biography, this one dedicated to the guy who organized the entire English language into lists. By using words themselves as the source of the book's illustrations, The Right Word will help your kids learn things like Latin roots and math terms. And, in the telling of Peter Roget's story, they'll get a charming sense of what borderline obsessive-compulsive disorder looks like.
This One Summer by Mariko Tamaki and Jillian Tamaki ($15)
Ages 7+
A graphic novel that grapples with tough topics like a rocky marriage and the frightening transition to one's teenage years, This One Summer tells the story of 3 months in the lives of best friends Rosie and Windy. It's unlikely your kids will want to read this one with you, which is probably fine since they won't get your "This one summer, at band camp …" jokes anyway.
This article was originally published on