You Can Watch the Deleted 'Encanto' Post-Credits Scene Right Here
Wait, there was a post-credits scene we didn't see?
by Tess Gionet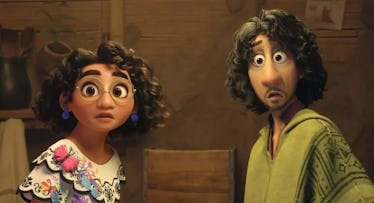 Credit: Disney
Hold on to your donkeys– a never-before-seen clip from 'Encanto' was just released! In case you've been living under a rock, Encanto is Disney's latest masterpiece. The film was released in late November of 2021 but seems only to be getting more and more popular with each passing month. Its hit song 'We Don't Talk About Bruno' just hit #1 on the Billboard Hot 100, tying Aladin's 'A Whole New World' as the all-time highest-charting song from a Disney animated movie. And because everyone simply cannot stop talking about Encanto, co-writer and co-director Jared Bush dropped a little bonus scene on Twitter last night.
"We considered an after-credit joke to end the movie," Jared tweeted, "but ultimately felt going out on the emotion and joy of the family coming back together was the way to go… but the hilarious @darrinbutters animated it!! So here you go! THANK YOU EVERYONE FOR WATCHING WITH US!!"
It's a short but hilarious video that would indeed have changed the emotional climax of the movie. In the clip, the giant capybaras (who followed Antonio around nonplussed after he got his gift) tries to urinate on the side of Encanto. The house responds but dumping its rain gutters on the poor critter, who runs off in fear. But hey, he should've known better than to mess with an enchanted house!
Watch Encanto here with a Disney+ subscription.