45 Winter Activities for Kids That the Pandemic Hasn't Ruined
This winter, we'll be cooped up inside more than any year before. These activities are the antidote to stir-craziness.
by Emily Kelleher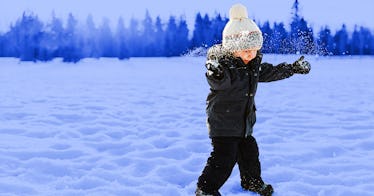 Winter is here, the pandemic drags on, and yet, kids still need to burn off energy somehow. With limited access to the places we relied on in past years (remember museums?), it's time to get creative. Combatting winter stir-craziness is a long game, and having a few new go-to winter activities for kids can help those long, dark days inside feel less bleak. This list of COVID-safe activities includes some ways to get kids outside (which helps build strong bones and regulate the circadian rhythm), a few doable crafts that won't ruin your house or make you lose your mind, and a handful of winter rituals that no childhood is complete without. Just remember that unstructured play is also really good for kids. These winter activities are great but don't be afraid to tell them to go play outside or let them get bored.
45 Winter Activities for Kids
Make ice sun catchers. Fill a container with water, decorate it with leaves, berries, or food coloring, add string, leave it outside (or in the freezer) to freeze, and hang on a tree-like ornament, or near a window.
Put a marshmallow in the microwave and watch it quadruple in size
Make monster prints in the snow. Cut the cardboard in the shape of a monster foot, and draw an outline of your kid's shoe on it. Punch two holes near the top and the bottom, thread string through the holes, and tie the feet to your kid's shoes. Let them stomp around in the snow and leave the impression that Bigfoot's come for a visit.
Make a snow volcano. It's the classic baking soda and vinegar experiment, just inside a volcano-shaped heap of snow.
Put on as many layers of winter clothes as you can and then have a hula hoop contest. The limited mobility makes it extra challenging, and funny.
Make reindeer food. Combine oatmeal (for taste) and glitter (so the reindeer can see it) and sprinkle it around the yard.
Make an ice sculpture. Fill different containers with water and a little food coloring, wait for them to freeze, and then arrange them however your artist's heart desires. To get them to sick, try pouring a little hot water on their edges to melt them and then watch as they freeze back together
Do cookie-cutter snow painting. Stick a cookie cutter in the snow and paint the snow within with watercolors.
Play secret snowflake. Each family member gets assigned another family member and spends the day doing nice things for them. That night, everyone tries to guess who their secret snowflake was.
Play tic-tac-toe in the snow. Just use a stick or a finger to draw a board.
Make maple syrup snow candy. It's as easy as boiling down some maple syrup and then pouring it onto the snow to cool and harden.
Build an ice rink in your backyard. (It's easier than you think.)
Make snow ice cream.
Make snow! You just need 6 parts baking soda and 1 part shampoo.
Get an outdoor thermometer. Teach kids how to read it and have them check it each morning.
Try your hand at building a cooler entirely out of ice, à la this guy.
Build an igloo.
If you're really committed, attempt this stained glass looking ice igloo.
Do a blind taste test of different brands of hot chocolate.
Build a marble racetrack out of snow. Pack a baking sheet with snow, carve out a trail, and then tilt the tray back and forth to guide your marble through the trail.
Make a life-sized snow maze. Like a corn maze, but the borders are made of snow.
Pull out the beach toys and build a snow castle.
Make indoor snowflakes that look like snow. Draw a snowflake with white glue, cover it with salt, shake off the excess, and then paint it with watercolors. The way the paint and salt react makes it look like real, wet snow.
Make colorful icicles by tying a string on a surface and placing the bottom of the string in cups of colored water.
Make icicles… again. Fill a container with water, hang it from a tree (or any other surface), and then poke a very tiny hole in the bottom so that water is slowly dripping out. If it's cold enough, an icicle will accumulate.
Wish for a snow day by sleeping with a spoon under your pillow and your pajamas inside out.
Have a contest to see who can stack more marshmallows on top of their head.
Go ice bowling. Pack snow down into a 'lane,' and if you're feeling it, spray it with water and wait for it to freeze. Fill balloons with water and wait for them to freeze into 'bowling balls' and then knock down frozen water bottles.
Catch snowflakes with black paper and look at them through a magnifying glass before they melt.
Make oreo truffle snowmen. Or skip the snowman part and eat them as is.
Build a snowball catapult.
Have a treasure hunt. Hide small toys in the snow and then release the kids to go hunting for treasure.
Go on a drive and hunt for the most dazzling (and obnoxious) Christmas light displays.
Make paper snowflakes.
Have snowball target practice. Set up a target (it could be a trash can or the side of the house) and practice aiming snowballs at the target from increasingly far distances. This game could also be played inside with balls of old newspaper and a bullseye target drawn on a piece of paper.
Collect branches and pine cones and make a DIY wreath.
Take a walk through the snow, stepping in the footsteps of the person in front of you. See if you can get it to look like only one person was there.
Make a terrarium. Fill a jar (or any glass container) with salt so it looks like snow, and then create a winter scene. Pine cones and evergreen branches can serve as miniature trees, and little figurines add character.
Blow bubbles outside on a day when it's below 32 degrees. The bubbles will form ice crystals and then shatter instead of popping.
Pretend you're on the Great British Bakeoff and try your hand at baking a Yule Log.
Make your own cozy fleece blanket. Take two squares of fleece, cut the edges into 2-inch strips or fringes, and then tie them together.
Make a chunky knit blanket. All you need is some oversized yarn and the ability to do a slip knot.
Surprise a neighbor by shoveling their walkway.
Observe the return of light and the lengthening of days by having kids log what time the sun sets each night. Even if they do it once a week they'll be able to see how much time is gained.
Look out for snow fleas.
Make snow cake for animals with a mix of snow, fruit and veggies.