You Only Think You Know Winnie-the-Pooh's Origin Story
One parent has an out-of-the-box Winnie-the-Pooh theory and we're pretty convinced.
by Tess Gionet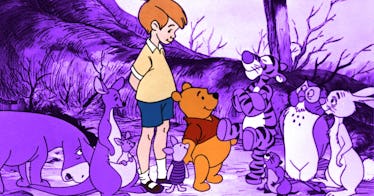 Winnie the Pooh, Pooh-bear, Pooh. This silly, pot-bellied teddy bear, written into existence by A.A.Milne, is known for his love of honey, his gaggle of wildlife friends, and his home in the Hundred Acre Woods. But how he was first found in those woods, and how he met his most beloved friend of all, Christopher Robin, is a secret that even wise old Owl doesn't know. Although the classic A.A. Milne Pooh books were published in the 1920s, I have a theory. There might be a re-telling of a secret Pooh prequel out there, that you might not be aware of!
This is mostly just a shared Pooh-universe that lives in my mind, but I think there is compelling evidence, that a 1989 picture book contains a low-key retelling of the origin of Pooh Bear. Think of this book as the secret "Batman Begins" of Winnie-the-Pooh lore. Let's get into it.
Christopher Robin Goes on a Bear Hunt
We're Going on a Bear Hunt is a 1989 children's book written by Michael Rosen and illustrated by Helen Oxenbury. It's won numerous awards, has never gone out of print since it was first published, and has been adapted into plays, a tv show, and even a cool kids' app. It also scans like a retroactive "origin story" of Winnie-the-Pooh.
In the book, four siblings and their babysitter trek out in search of a bear. They were going to catch a big one, and it was a beautiful day. They weren't even scared. They traveled through the grass (long wavy grass), a river (a deep cold river), mud (thick oozy mud), into a forest (a big dark forest). What any reader with half as much cunning as Rabbit will see is that the forest they stumble upon is none other than the Hundred Acre Wood that Pooh and his friends live in– both fictional forests are set in the UK. And if you look closely, you'll see that the middle-aged boy in Bear Hunt — could be, maybe — none other than Christopher Robin. Don't believe me? Take a look–both boys have thick red-brown hair, black eyes, skip exactly the same, often take their adventures too far, and are clearly bear-obsessed.
The young boy (possibly a Christopher Robin analog?) and his siblings finally find a bear, who chases them home where they stay and hide under the covers, locking the door behind them, and the bear returns to the woods. We're Going on a Bear Hunt leaves us there (oh, bother), but with a little imagination and ahead of free of fluff, you'll see this is just where the adventure begins.
Pooh and Robin Together At Last
Christopher Robin, hiding inside his house with his siblings and babysitter, could not forget that bear. He realized the bear looked not so much scary as he did lonely like he just wanted to play. The next day he left his siblings at home and ventured out for a solo bear hunt– or, at least, he picked up his favorite stuffed bear and recreated the bear hunt from his bedroom. He found his way back through the grass, river, mud, and into the Hundred Acre Wood. He was a little scared, but much less so when the friendly bear began to talk. He learned that Pooh is out of honey, and the two come up with a plot to trick some bees out of theirs. (This is the first story in the Winnie-the-Pooh books and is the first scene where Christopher Robbin and Pooh are shown together. They become fast friends, and the rest is pooh-stery.
Make Your Own Bear Hunt
Since the start of COVID-19, parents and children around the world have found a little relief by making bear hunts of their own. It's a way to keep your community spirit alive, without, you know, actually being with your community. You can make your own bear hunt, too– just place a favorite bear (Winnie-the-Pooh, if you've got him) in a window of your house and see how long it takes for your neighbors to add bears to their windows. Or, hide a bear, gather your kids, and recreate Rosen's Bear Hunt scene by scene inside your home on a rainy day. We're Going on a Bear Hunt is probably already on your bookshelf, but if not, make sure to grab a copy. There's no better book for teaching kids rhyme and repetition, and it's one of the only children's rhymes out there that won't drive you bananas if it gets stuck in your head.
After you lock your door and hide upstairs from the bear, make it a double feature and break out a classic Pooh book, or take a break and screen one of the twelve Winnie-the-Pooh movies on Disney+. Your kids will love the connection between these two books, and you've just covered an afternoon's worth of activities. Win-win.
The IRL story of Winnie-the-Pooh
To be clear, this is only one over-tired-parent overthinking something about a picture book. We're Going On a Bear Hunt is not officially a Winnie-the-Pooh prequel, but you're kind of convinced it is now, right? If you want the IRL story of Winnie-the-Pooh, in picture book form, be sure to check out Finding Winnie, written by Lindsay Mattrick and illustrated by Sophie Blackall. It's great!
This article was originally published on