Why Daniel Tiger's New Friend Jodi Platypus Is the Best New Kids Character In Years
She's going to teach your kids so much!
by Alicia Kort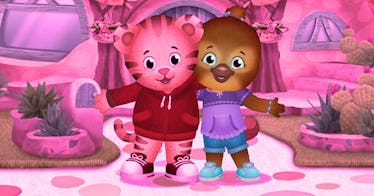 PBS Kids
Daniel Tiger got a brand new next-door neighbor, and she's pretty perfect. The animated PBS show, which utilizes characters from Mr. Rogers' Neighborhood, premiered its first-ever Daniel Tiger's Neighborhood TV movie on September 17th to welcome the Platypus family to their new home. Daniel has had the same group of preschool friends—Prince Wednesday, Katerina Kittycat, O the Owl, and Miss Elaina—since the show was created in 2012. It's a big deal for Daniel and the young viewers of Daniel Tiger that he's getting a new friend: Jodi Platypus. After watching the movie, it's clear that Jodi is going to be as charming and sweet as Daniel Tiger himself. The show is so beloved and critically acclaimed because Daniel learns with the viewer, and he's going to learn a lot from Jodi Platypus. Here are some reasons why Jodi is such a great addition to the show.
1. Different is good.
When Jodi moves into the neighborhood, she misses her old room and her friends. By the end of the movie, she learns that it can be beneficial to meet people that are different from herself and experience new things. Big changes can be hard on young kids, and Jodi navigates her new surroundings in a sympathetic and realistic way. She cries when she can't find her favorite bedtime book after the boxes are all unpacked and fixates on it, because it reminds her of her home.
Up until now, Daniel Tiger episodes have all been from Daniel's perspective, but in the movie he is sometimes out of the room entirely and the action is focused on Jodi. Daniel and Jodi learn how to relate to each other even though they're different. This little tiger is so eager to meet his new neighbor and is especially excited that she lives next door. Daniel has never met a platypus before, and Jodi has never met a tiger. They find the ways that they're similar: They both like playing with trains and they both love reading Tigey: The Adventure Tiger books. The two new friends find that they're able to appreciate their differences, which will no doubt be explored in future episodes.
2. She doesn't have a nuclear family.
Aside from O the Owl, who's raised by his Uncle X, the rest of the kids have a mom and dad. Jodi and her twin brothers are raised by her mother, Dr. Plat, and her grandmother, Nana. Daniel does ask questions like "Does your grandma live with you?" and "What are twins?" but he focuses on how cool that must be for Jodi. Kids are going to encounter children who have different family structures, and Daniel and Jodi are preparing them for those interactions in a gentle, kind way.
3. Jodi's teaching kids how to handle moving to a new place.
Moving is a part of many children's lives, and it can be a huge adjustment. With the songs "It Takes Time to Make a Place Feel Like Home" and "Where I Used to Live," Jodi shows that it's okay to be sad about leaving behind your old home and it'll take time to get used to your new one. When Jodi and her family attend a welcome party, she's overwhelmed by all of her neighbors at first, but she gradually warms up when she notices how helpful and kind they all are. As she is brought further into the neighborhood fold, she will probably deal with homesickness and try to foster closer friendships with Daniel and co.
4. She's bringing back "Neato!"
For parents who have Daniel Tiger-obsessed children, they are well aware that he says "grr-ific" constantly. It's his catchphrase. It looks like the creators of Daniel Tiger have given Jodi one as well. Whenever she thinks something is awesome, she says "neato!" This old-fashioned phrase might be reserved for grandparents and some parents who are deliberately trying to be corny, but Jodi uses it with no irony whatsoever. Expect this phrase to make its way into your household.
Now that Jodi has been introduced to the neighborhood, the creators have wasted no time incorporating her into future episodes. Two new Daniel Tiger episodes featuring Jodi aired this week, and she's probably not going anywhere for the rest of the season.
This article was originally published on