Axe Throwing is the Next Great Leisure Sport
And, yes, kids can do it.
by Chase Scheinbaum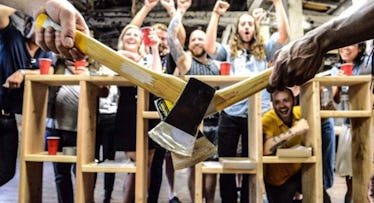 Facebook / Urban Axes
The first time Lily Cope came across the words "axe throwing", it was in a text message. "I thought my friend's phone had autocorrected," says Cope, who now goes by the title Axe Master General for her role in a burgeoning sport that's like dart throwing but with 1.5-pound woodsmen tools.
How did axe hucking come to be? The game — shall we call it an axe-tivity? — was invented by people who spend a lot of time indoors, own a plethora of axes and, unlike Americans, aren't afraid of handing them to strangers: Canadians. Over the past decade, it's gone from backyard amusement to a structured indoor game in a bunch of Canadian cities. Beginning last September when Cope's company Urban Axes opened a facility in Philadelphia — the first in the U.S. — American urbanites who've chopped nary a piece of firewood have gathered to fling axes competitively, sometimes accompanied by beer.
The common reaction upon learning about axe throwing very quickly escalates from "That's a thing?" to "Holy shit, you can drink beer and throw axes?" says Cope. So alongside leagues, lots of birthday, bachelor, bachelorette and corporate groups (usually eight or more people) have signed up to hoist axes overhead and fling them at a target that's generally 12 feet away, painted on 2x4s.
Ascribe whatever meaning you'd like to it, but hucking what could easily be a lethal weapon resonates more with today's after-work crowd than throwing darts (where maiming would be a challenge) or bowling (where injuring one's self seems most likely). Perhaps that's why, with bowling falling into the gutter, around 10 axe throwing facilities have opened stateside in under a year, with more cropping up virtually weekly.
"It's very satisfying," Cope says. "Because you're throwing a sharp weapon, there's a perceived element of danger."
Despite the social nature, axe throwers usually compete as individuals, not in teams, gathering points based on where the axe strikes the target, or playing a variety of games with varying scoring schemes. It's a bit more structured than a fight scene in an episode of Vikings: Throwers generally stand side by side and simultaneously toss at their own target or at the same one. Each axe throwing operation has its own rules and regulations, though there's an effort afoot to standardize the sport. Because they have a BYOB policy, Urban Axes has an age requirement of 21, but not all companies permit drinking or have a required age.
Coaches are generally provided to teach technique during sessions that last around two-and-a-half hours, where a player can expect to log a good 50 chucks for $35-$45 per person.
Beyond a modicum of hand-eye coordination, "there are no athletic skills required," says Melanie St. Amour, of Bad Axe Throwing, which has locations in Chicago and Indianapolis. "Anyone can do it, it's really about technique and form." Maybe that's why axe throwing seems to attract a wide range of people — small, big, male, female, goth, hipster, civil engineer.
Well, at least one civil engineer: Steve Malvey, 57, a straight-laced dad from Philadelphia who's added axe throwing to his schedule of golf and volleyball. It was Malvey's 27-year-old son Sean — who Malvey says would be the first to admit he's more interested in gaming in the basement than athletics — who introduced him to it. After finding axe throwing at a bachelor party, Sean got hooked, turned his dad onto it, and now father and son compete in a league together. For no reason other than the nature of the game, or the nature of the man, Malvey wears a kilt while throwing.
"There aren't enough opportunities where you can spend this kind of time with an adult child and have a heck of a lot of fun," he says. Malvey has 20 years on the next-youngest competitor, he says, but that doesn't stop him from sufficiently whooping it up with the nurses, teachers, and hipsters in the league. "There's a lot of ink and piercings, but these people are so cool."
His first time out, Malvey "bounced the axe off the target for an hour-and-a-half," but after correcting his technique he started to nail it routinely. "The first time the axe sticks, it's like a hole-in-one in golf," he says. "Your hands go up, everyone cheers, it's a special experience."
This article was originally published on