If "Uncle" Isn't Who We Think It Is, 'Hawkeye' Will P*ss Off a Lot of People
Don't mess with us, Marvel.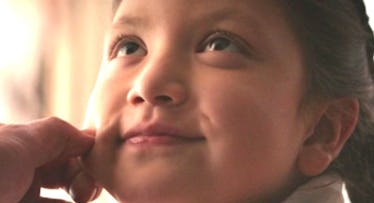 Credit: Marvel
Hawkeye is great. As a lifelong comics guy, I find the sheer goodness of this show a frickin' balm. So, if you're not watching Hawkeye, like, stop right here and get you to a Disney+ streaming app and do yourself the gift of getting caught up with the exploits of Kate and Clint. (Assuming Disney+ can stop these outages from happening.)
Anyway, after Episode 3 "Echo," and head of episode 4, here's where we're at with all things Hawkeye.
Alaqua Cox is Awesome
Episode 3 builds around Alaqua Cox's Maya "Echo" Lopez, the character introduced at the end of last episode. The leader of the tracksuit mafia, Maya is fixated on Kate Bishop's connection to Ronin, the vigilante who killed Maya's father (a vigilante who happens to be Clint Barton during a very dark spell, though neither Kate nor Maya knows this). Cox brings a ferocity and depth to her character–and that she is a deaf actor playing a deaf character is also a vital turn for representation in the MCU.
While established as the antagonist to our two Hawkeyes, Maya is a compelling and sympathetic figure from the jump: her origin and motivations provide the whole series with all the more pathos and depth. In the opening flashback to Maya's childhood, we see how she refined her techniques of hyper-attentive observation to navigate the hearing and ableist world into which she was. Later, at the karate dojo, Maya carefully observes the other students before taking to the mat herself to execute a takedown of a bigger kid–mimicking precisely the move she'd seen him execute. Hence: Echo.
"Echoes" also explicitly centers the question of deafness and deaf culture in a dominantly hearing world. During her interrogation of Clint, Maya chastises him for relying on his hearing aid instead of embracing, as she has, the strength of his hearing-impaired nature. Maya's response to her disability also echoes (forgive me) the way that another Marvel character, Matt Murdock, turns his blindness into an asset: Echo, after all, first appeared in a Daredevil comic. (And, yes, more on the devil of Hell's Kitchen in a minute.)
Kate + Clint = Hawkeye
Kate and Clint's partnership has really started to take shape by episode 3. From the brawl in the abandoned toy store to their car chase, getting to see Clint and Kate work together to escape the tracksuits is super fun–and a key turn for their relationship. A variation on a scene that appeared in the Fraction/Aja Hawkeye comics, the chase through Flatbush Brooklyn, down the BQE, and over the Manhattan bridge is marvelous: fast, frenetic, and funny. This terrifically constructed action sequence uses Clint's loss of his hearing aid to good effect: how do you coordinate a bow-and-arrow defense against gun-wielding mafioso when you can't communicate as you once could. And, I mean, all these trick arrows, y'all! I could watch this car chase sequence for half a day or a whole day.
The scene in which Kate helps Clint communicate with his son on the phone after his hearing aid is broken is quite poignant: further emphasizing the theme of fathers/absent father/stepfathers (and "uncles") that Hawkeye is exploring. Hailee Steinfeld and Jeremy Renner are doing great work bringing these characters into life with each other, and binding them together in good complex ways.
"Uncle" (wink-wink)
So: Wilson Fisk is Hawkeye's big bad. The internet has been lit for weeks about whether or not Vincent D'Onofrio, who portrayed Fisk in the late great Daredevil Netflix series, will appear. After this episode, I mean: either the producers are trolling its audience wicked hard, or we're getting our first confirmation of the long-percolating theory that Hawkeye would criss-cross into the (now, alas, non-canonical) world of Daredevil.
Where's all this coming from? Well, Maya "Echo" Lopez is the adoptive daughter of Wilson Fisk, the Kingpin, and antagonist of Matt Murdock's Daredevil. In our flashback, as Maya's father leaves her at the dojo he says that "uncle" will take her home — and it's here that we get a glimpse of a rather, well, Vincent D'Onofrio-sized hand reaching out to squeeze her cheek. There's a little chuckle-grunt here too that — you betcha — sounds an awful lot like the chuckle a Vincent D'Onofrio Wilson Fisk might make. In the next scene, Ronin goes on to kill Maya's father, leaving her fatherless, but with a, well, uncle. After the tracksuits lose the Hawkeyes in the car chase, we get an ASL conversation between Maya and Kazi — her number one — in which it becomes clear that "uncle" is still very much calling the shots. Uncle wanted them to lay low after Ronin attacked and decimated their operation, Kazi says. Yes, but who did he leave in charge, asks Maya. Her.
So: when will D'Onofrio get to stop trolling everyone and actually appear on screen? Where will this leave Kate and Clint? And will D'Onofrio's entree into the series create a door for Daredevil himself to enter–all ahead of Alaqua Cox getting her own show in the forthcoming Echo (which is gonna be awesome). I mean, either they are being really mean, or we are in for some treats ahead. (And by "treats," we mean Vincent D'Onofrio and Charlie Cox, who seems to be promised to the MCU again.)
The point is, if "Uncle" isn't actually Kingpin, then a lot of the great feelings we all have about Hawkeye might sour. This reveal seems so obvious, it feels like that maybe it shouldn't have been kept a secret at all…
Hawkeye has three episodes left, each airing over the next three Wednesdays on Disney+