The Best Spring 2018 Family Travel Destinations: Whitefish, Montana
Whitefish's has retained its charm (and bear population) while becoming a hotspot.
by Dan Friedell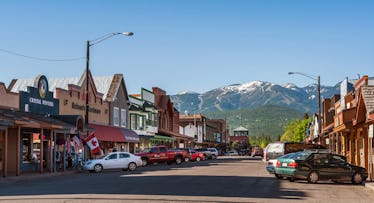 Whitefish has been an up-and-coming mountain town for almost a decade. One could argue that it has already up-and-come, but the truth is that it keeps getting better — the trick being that the town retains the charm that made it worth visiting in the first place. This is a place where fierce black bears and snow-tanned Canadians roam. The locals handle the bears by keeping garbage can lids tightly secured and the Canadians by keeping Big Rock Scottish Heavies on tap.
Just about an hour from Roosville and the Canadian border, Whitefish is the closest town to Glacier National Park and a hub for outdoor activities, including skiing, snowboarding, hiking, mountain biking, and camping. With nine months of winter per year, residents and visitors have no choice to embrace the snow. But the place really shines when the sun peaks out. Whitefish regulars — and an increasing number of irregulars — spend the short summer rafting, paddleboarding, and trout fishing as though the can the ticking countdown the first snowfall was clearly audible over the grunting of the mule deer.
Lifelong resident and owner of Sweet Peaks Ice Cream (https://www.sweetpeaksicecream.com/) which serves the classics along with seasonal flavors like avocado toast, maple bacon, and cinnamon sticky bun, Sam Dauenhauer, a father of three who owns the local ice cream shop, says the vibe is "relaxed and local. It's one of those places where you get the influx of tourism from around the world, but you also have the gratification of knowing everybody at school or at the coffee shop."
Most visitors arrive from Calgary, Seattle, Salt Lake City and Portland. There is, in short, a lot of flannel and no dearth of acoustic guitars. But the demographics are shifting somewhat as word gets out and airlines set up new routes. The announcement of a direct United Airline flight from Los Angeles to nearby Kalispell was treated as both big and — this is not always a given in a small town — good news. Dauenhauer says folks who once flocked to the Pacific Northwest because of the lifestyle are coming to Whitefish to vacation and then staying to telecommute.
And the lifestyle is all about doing, especially in spring when it's possible to get some skiing in at Whitefish Mountain Resort and still make it back to town in time to play on the sandy City Beach or get nine holes of golf in before the sun sets. "We're right on the cusp between being a mountain town and a place where you can go play at the park with your kids," says Daenhaure, perfectly summing up the primary reason Whitefish will inevitably become a major family destination.
When that transformation comes, the town will be ready. There is only one local elementary school, one middle school, and one high school in Whitefish, but it seems as though the whole town was built around the needs (and wants) of parents. The Glacier Highline ropes course is the jungle gym of children's dreams and every eatery is family friendly. Take the Buffalo Cafe, with its deep kids menu (https://www.buffalocafewhitefish.com/menus/Kid_Menu.pdf) and even The Great Northern Bar and Grill, which goes full honky tonk after 9 p.m. after seemingly keeping every visiting kid happy with a wide selection of burgers.(https://greatnorthernbar.com/menu/)
Still, as great as Whitefish is, visitors will inevitably want to leave for Glacier National Park, which offers over a million acres of glorious (and shockingly accessible wilderness). The best place to get started? The drive past beautiful Lake MacDonald to the "Going to the Sun Road," one of the most beautiful throughways in America and the perfect place to take in some views with children not quite ready for the long hikes just yet. Got older kids? Do the same thing but head to the Siyeh Bend Trail. Hike three miles in and you'll find yourself in Preston Park, which is not actually a park at all but a series of alpine meadows.
The nicest thing one can say about Whitefish is that it's a beautiful enough town that you won't be tempted to make camp.
PERFECT FOR: Really, this place is gold for families of all stripes. The only caveat is that it can be a bit tough with toddlers because many of the best activities are physically demanding and no one wants to carry a kid for the whole hike. That said, there's always something fun to do so don't overanalyze.
WHAT TO DO
Learn to ski or ride at Whitefish Mountain Resort: available for first-timers ages 7 and older. $82 gets kids or adults two days of rentals and lift tickets for the beginner slopes. Four hours of instruction per day is included.
If the weather is rough or you just need a day indoors to re-charge, hit The Wave, an indoor recreation park. The indoor pool and fitness center opened in 2005 and features swimming, yoga, pilates, group fitness, basketball, cycling and indoor sports leagues. Guests can get adult day passes for $15 and kids enter for $5 to $8 depending on age.
Need a workout spot with indoor climbing? You're covered at Rockfish Climbing and Fitness. Get a day pass for $12 (adults) or $10 (youth). Little kids get in free with their paying parents. 12,000 square feet of climbing includes special spots for kids to give it a try.
City Beach (70 Lakeside Blvd.) is the place to be on a warm spring day where you'd rather stay local. Young kids enjoy the sand, while adults and older children can rent kayaks and paddle boats.
Stumptown Historical Society and Whitefish Museum. Check out the restored train depot, locomotive and local Whitefish history and tall tales.
WHERE TO STAY
The hallmark of a truly great Montana hotel? An indoor-outdoor pool. The best place to take a dip in one of those is The Lodge at Whitefish Lake, where mid-March rates from $125-a-night. The Pine Lodge also has a pretty excellent body of water.
The downtown Whitefish experience, with easy access to restaurants, bars and shopping, is more easily enjoyed at
The Firebrand Hotel. It's worth a look if you have any reservations about going native and spending all your time out of doors.
HOW TO GET THERE
Some major airports in the western U.S. offer nonstop flights into Glacier Park International Airport. Those include: Portland, Phoenix, Salt Lake City, Minneapolis and Seattle. Recent prices for round-trip, mid-March travel on Alaska Airlines from Seattle were in the $200 range, while flights from Salt Lake City on Delta were about $400.
This article was originally published on