Which Kids Shows Have the Most Positive Dad Role Models?
Had enough of the dad from 'Peppa Pig'? Try these guys.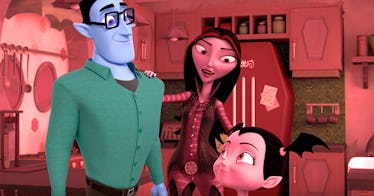 Disney
Daddy Pig from Peppa Pig has possibly given cartoon dads a bad name. He is clumsy and really serves only as comic relief for his children, Peppa and George, rather than as an actual reliable father figure. Plus, Peppa is extraordinarily rude to her dad and clearly doesn't respect him in the slightest, calling him "silly daddy" in a way that is more insulting than affectionate. Although Peppa Pig is a pretty solid show, dads everywhere might be wondering if there are are some alternative TV shows featuring admirable fathers. If you've got a pre-school aged kid, you might be feeling desperate to know which cartoons won't make fathers look like bumbling dolts.
Here are three contemporary cartoon dads that aren't terrible, and in fact, you might be able to stand watching.
1. Dad Tiger from Daniel Tiger's Neighborhood on PBS
Dad Tiger is a father to his 4-year-old son, Daniel, and his toddler, Margaret, and wife to Mom Tiger. He has a job at the Clockwork Factory and Mom Tiger was a stay-at-home mom until recently. Dad Tiger doesn't always get to spend as much time as he wants to with his children, but when he's an attentive and kind dad. When he drops Daniel off at school, he reassures his son that grownups always come back and that they'll play soon. He plays fun games with his son, and they go on adventures throughout town to teach Daniel about the world. He explains things gently and with care, like when Daniel sees that unripe strawberries on the strawberry bush, he asks what they are. Dad Tiger tells him to look a little closer. He is patient enough to let Daniel learn and thrive. Dad Tiger is an openly affectionate father as well. He always says "Ugga Mugga," which is the Daniel Tiger version of "I love you," to Daniel.
2. King Frederic from Tangled: The Series on Disney Channel
King Frederic can be a little overprotective of his 18-year-old daughter Rapunzel sometimes, but perhaps with good reason. Rapunzel snatched from her crib by Mother Gothel, and King Frederic and his wife, Queen Arianna, didn't see their daughter again until she was a teenager. He has too many rules for Rapunzel's liking, but as he gets to know his daughter, he has lightened up a little bit, realizing that she is an adult who is more than capable of taking care of herself. He put Rapunzel in charge of the kingdom of Corona and in season 2, Rapunzel leaves Corona behind to go on a quest. Even when he's away from his daughter, they have a strong bond. In the episode "Happiness Is," Rapunzel realizes she's homesick when she finds a letter that her father wrote to her on one of her many missed birthdays, pleading for her return. King Frederic has full faith in his daughter and isn't afraid to express his feelings.
3. Boris Hauntley from Vampirina on Disney Junior
Boris and his wife Oxana uprooted their lives and family from Transylvania to Pennsylvania and opened up the Scare B&B together. They along with their daughter, Vampirina, had to adjust to their new surroundings. They're vampires after all, and humans aren't exactly used to them. In the show, Boris is a supportive and loving husband, which is not often depicted on children's shows. He can be goofy and loves his team the Transylvania Trolls, but he incorporates his family into his silliness and isn't maligned for it. He helps plan Vampirina's birthday in a new town and goes out of his way to make sure his daughter has a good time, despite the fact that some guests ran screaming out of this "scary" party. Boris instills lessons in Vampirina so well that when he loses faith in himself that his daughter is able to raise his spirits with a song because sometimes fathers need to be reminded that their kids believe in them too.
Positive dad role models are lacking in kids shows, but these fictional fathers are great examples of how the entertainment industry should treat fatherhood going forward. Children shouldn't learn that it's fair game to make fun of their dads in hurtful, mean-spirited ways, but that there is a respectful way to have fun together.