Turn Your Kid's Weird Drawings Into One-Of-A-Kind Stuffed Animals
The website Budsies is allowing you to change your child's drawing into a sixteen inch, one of a kind stuffed animal.
by Fatherly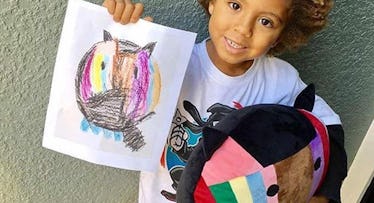 this kid," then check outBudsies. For $69, the company's artists, toy designers and seamstresses will interpret those drawings and create a custom, 16-inch stuffed animal that previously existed only in their brain. The bespoke plush toy business must be booming, because Budsies has a November 14 cutoff for all holiday orders. Scramble if you have to – you don't want to miss the expression on your kid's face when they realize you magically made their Unicorn Panda Cat come to life.
The Fatherly Budsie Holiday Contest
Submit your kid's drawing, along with a brief description of how that thing might behave in the wild, to Hello@Fatherly.com by November 12. Our editorial team will select a winner and place the order in time for holiday delivery, all for the low, low price of nuthin'. You've always suspected your kid's an artistic genius – here's a chance to prove it.
This article was originally published on