Here's the Complete 75-Year History of 'Thomas & Friends'
How a childhood daydream became a childhood icon.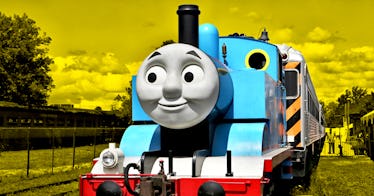 Getty Images
This story was produced in partnership with Mattel.
The trains of the Island of Sodor have entertained millions of kids over the years, but the first lad captivated by those stories was Christopher Awdry. His father, Wilbert Awdry grew up in a rural section of Hampshire, a county on the southern coast of the U.K. in the 1910s and '20s. Young Wilbert daydreamed about the steam engines he heard passing through his corner of the countryside.
"There was no doubt in my mind that steam engines all had definite personalities," Awdry would say years later. "I would hear them snorting up the grade, and little imagination was needed to hear in the puffings and pantings of the two engines the conversation they were having with one another."
Wilbert's thoughts returned to the engines of his youth when his contracted the measles in 1942. Faced with the task of entertaining his ailing son, Wilbert started telling stories about trains with personalities that became oft-repeated family favorites. Christopher pushed his dad to start writing them down and Margaret, the matriarch of the family, urged her husband to turn those scribblings into a proper book. It was a true family effort.
Christmas 1942 Christopher also becomes the first kid to play with a Thomas toy. His dad assembled wooden models of Thomas and Edward from a broomstick and wood scraps and gave them to his son for Christmas months after he told the first story about Thomas and Edward.
The Three Railway Engines chugged into bookshops in 1945. It was an immediate success, selling 45,000 copies in just a few months, creating demand for an entire series.
1957 In a sign of things to come, the first Thomas merchandise, "pre-cut model engine books," are released. Kids popped out the full-color pieces in this book, folded, and glued them together. They were produced through the '60s and revived in 1987 and 1994.
Awdry retired from the world of children's fiction in 1972, 27 years and 26 volumes into the Railway Series. The '70s were something of a break from Thomas for Awdry, but a meeting between the author and Britt Allcroft at the end of the decade would prove fortuitous.
Allcroft was a television producer who wanted to bring the Railway Series to the medium. Awdry signed on, and Allcroft went to work. She raised funds for production and chose an innovative "live-action model" animation process that would catch the eye of parents and children alike.
And just as its television life was beginning, the literary life of these trains was starting anew. In 1982, a chance encounter with an engine driver inspired Christopher to continue his father's legacy and create something for his own son, Richard. He published his first book in the series the following year.
October 9, 1984 Thomas the Tank Engine & Friends makes its television debut in the United Kingdom's ITV network.
Like the book series, the television show found immediate success. The series came to the United States in 1989 and Japan in 1991. Going international was a sign that the train stories were a nascent juggernaut.
July 14, 2000 Thomas and the Magic Railroad, the first feature-length film in the Thomas empire, premieres in theaters in the United Kingdom, 12 days before doing the same in the United States.
Over the years, these stories have moved from books and television into 13 feature-length films, three theme parks, numerous traveling tours, and even a museum exhibition that's six years into a decade-long run. Day Out with Thomas events promoting heritage railways have taken place in seven countries. There are eBooks and apps and a plethora of toys.
November 27, 2014 Thomas makes his debut as a balloon in the Macy's Thanksgiving Day Parade.
Why have the stories of these trains found such lasting success? Well, you can't ignore the fact that, like dinosaurs and space, there's just something about trains that kids love. Thomas was, essentially, created by a kid when Awdry heard those trains in his youth. And it was refined by a father when he, like every parent is at some point, was tasked with cheering up his sick child. With an origin story like that, it's no wonder that kids and parents across geographic and generational lines have found comfort in them, and will continue to do so in the years to come.