This DIY Spidey Costume Will Keep Your Kid Cosplaying for Hours
The only thing better than watching 'Marvel's Spidey and His Amazing Friends' is dressing up as Spidey or one of his Amazing Friends.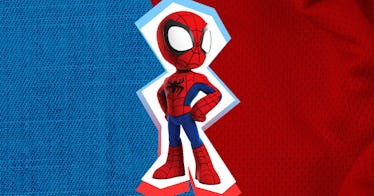 ©Disney ©MARVEL
This article was produced in partnership with Disney Junior.
Halloween is the obvious time for kids to dress up in costumes, but young cosplayers-in-training know that there's no bad occasion to dress up as a cowboy, ninja, or Super Hero. If your kid is a Spidey fan — in other words, is a kid — then having a go-to costume on hand is a must. Luckily, making one is an inexpensive, fun, and not-too-complicated way to spend time together.
Prep Time: None
Entertainment Time: 30-45 minutes to make the costume, hours and hours of wearing it
Energy Expended by Child: Moderate
What You Need:
Red ski mask, balaclava, or stretchy beanie (to serve as a mask)
Red top
Blue pants
Red shoes
Black fabric (can be an old shirt or other small scrap)
Needle and thread or fabric glue
Fabric markers
Note: If your kid wants to dress up as another Marvel's Spidey and His Amazing Friends character, use a black mask and pants (for Miles) or a white mask and purple pants (for Ghost-Spider).
How to Play:
If the ski mask or balaclava is sheer enough to see through, outline the eyes with a white fabric marker. If you're using a beanie, cut out a couple of eye holes and outline using the marker to get the signature Spidey eye shape.
For the spider emblem, fold a piece of fabric in half, draw half of a Spidey logo along the fold, and cut it out so you get a perfectly symmetrical spider. Then, you can sew it onto your kid's shirt (or, if you're not much of a seamster, stick it on with fabric glue).
Once the emblem is affixed, your kid can start drawing the gridlike design all over the red and blue parts of the outfit. After that, it's a matter of making sure everything is dry, putting on the costume, and running around the house fighting crime.
Wrap-Up:
We used the standard Spidey costume as an example, but if your kid is partial to Ghost-Spider or Miles Morales you can use pink, blue, and white or red and black clothing, respectively. And honestly, if your kids (or maybe them and their friends) can dress up as the whole gang then they're in for some next-level pretend play.
Watch Marvel's Spidey and His Amazing Friends on Disney Junior!
This article was originally published on